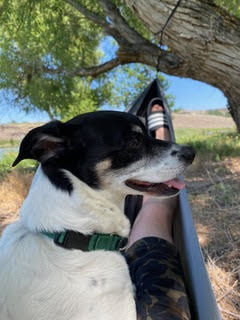 It's with a heavy heart I'm writing this and while the grief is overwhelming, I can't help but think of just how much a true success story Puppy was.
As a kid, I always envisioned what having a dog would be like – a dog following you around off leash or who would come running at the sound of one of those cool loud whistles. Puppy was not that. He was a monster on a leash and would bolt the minute I unclipped him. And when I whistled, he couldn't be less bothered. But what Puppy was was for more valuable than any of those things – he was my absolute best friend.
When I adopted Puppy from Muttville I expected I'd maybe get a solid 2-3 years with him. Instead he gave me 7 years. Like Rocky, he just kept getting up – each time seemingly stronger than before. Until the last few months when we found out he had a growth on his heart, there was nothing Puppy couldn't do. (I told people his heart grew too big). I took him on all my adventures – fishing, backpacking, camping, road-tripping. But what I loved doing the most with him was just sitting on the couch, him tucked between my legs, watching baseball.
We spent his final afternoon doing exactly that. On a dark cloudy day, we sat and watched baseball. Until we finally had to say, "goodbye." Only then did it start to rain. And it hasn't stopped raining since. I know it will stop eventually. And the sun will come out. And time will move on. But every time it rains, I'm going to stop and remember all the joy Puppy brought me.
Thank you, Muttville. Thank you, Puppy – I love you so much.
Richard Gibson