Senior dogs are the perfect companions for senior humans, and Muttville is committed to making it as easy as possible for seniors to adopt. People over 62 years old qualify for our Seniors for Seniors adoption program, which includes a waived adoption fee and a month's worth of supplies.
If you can't adopt a dog, you can catch some snuggle time at the Cuddle Club Muttville holds at our headquarters. Seniors can spend an afternoon socializing with each other and cuddling with the mutts!
Want to know more about the benefits of dog companionship? Read our top 10 reasons a senior should adopt a senior dog.
Seniors for Seniors adoption
How it works
Adopting a senior mutt is easy! Here's how.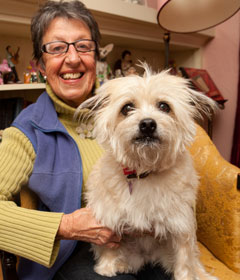 If you are 62+ years of age, complete our Seniors for Seniors Adoption Questionnaire.
After Muttville receives your questionnaire, we will help you find your perfect pooch partner. Muttville waives its $200 adoption fee on all Seniors for Seniors adoptions.
Once you've settled on a dog and completed the adoption agreement, you'll receive a customized senior welcome kit. It includes your dog's harness and collar, a leash, dog bowls, a starter supply of food and medication, a doggy bed, and, as needed, home modifications such as a doggy gate and stairs.
That's it! Almost all our matches live happily ever after, but if it doesn't work, or if future health challenges result in your being unable to care for your dog, Muttville will happily reassume care of him or her.
Questions? Please email seniorsforseniors@muttville.org.
The benefits of companion animals
Scientific studies have shown that pets provide real health benefits to the humans who care for them: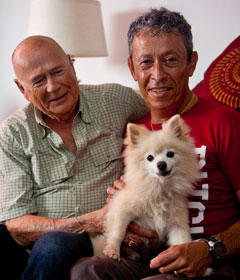 Increased physical activity
Increased socialization and engagement
Lower blood pressure and cholesterol
Fewer trips to the doctor and therefore, decreased medical costs
Less depression and a happier state of being
Greater sense of physical security
Love, affection and companionship
Cuddle Club
Spend some time snuggling with a senior mutt at Muttville's Cuddle Club.

Come cuddle with a Muttville mutt! Muttville's Cuddle Club is an opportunity for senior citizens to visit our new facility and spend time with our wonderful senior dogs in a home-like community space.
We know not everyone may be able to adopt a dog, and we don't want that to get in the way of receiving the special love that one of our gentle, loving rescued senior dogs can give! Cuddle Club, separate from our adoption events, is an opportunity for seniors to spend a lovely afternoon with some of our adorable mutts.
Our dogs cherish the chance to score some extra cuddle time, and you'll love the wags, kisses and contented sighs that they give in return. You'll also be helping our doggies feel comfortable in their new environment as they make the transition to their new forever homes.
If you are a senior citizen living in the Bay Area and would like to spend some time snuggling up with our older mutts on the sofa, please let us know!
Contact Muttville at seniorsforseniors@muttville.org to set up a Cuddle Club event for your organization or to find out when we have our next one scheduled.
There will be plenty of socializing, petting, walking, and, of course, cuddling. Join us!
How to help support this program
Help support this important program by becoming a Mutt Guardian, a sustaining monthly donor. Donations of beds, dog bowls and medications are also always welcome.
Real-life stories from Muttville senior adopters
So many of our senior adopters write to us and tell us what a difference their Muttville mutts have made to them. Here are some stories.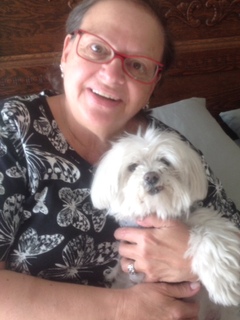 Terry and her husband always had dogs when their four daughters were growing up. But since the kids left home and the family pets passed away, it had been nearly ten years since a dog had graced their home. "There was a void," Terry says. "I really missed having a dog."
An added complication was Terry's breast cancer diagnosis. About … more »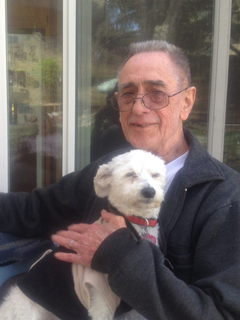 When Ed's wife passed away from cancer, he felt "very lonely." A retired manager with the Vallejo school district, he was no longer sure how to fill his days. His daughter, Tracy, brought him to Muttville to meet Felicity, a spunky poodle in need of a home.
Felicity came to Muttville from a high-kill shelter in Los … more »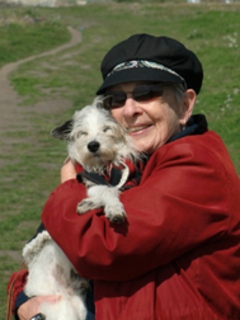 In Lynn's words:
I began an online search for our next dog six months after Hootie, our terrier mix, died of a heart attack two weeks before his sixteenth birthday. My husband, Lee, and I were still grieving and might have waited awhile before taking on another dog, but our eight-year-old Roxie, a senior herself, … more »