SATURDAY, SEPTEMBER 26
Mutts on the Moon - Senior Prom!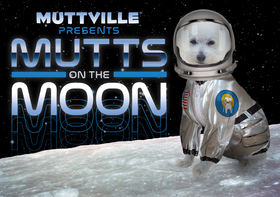 The Moon
6:00 - 7:00PM
Muttville's annual fundraising gala, the Muttville Senior Prom, is ON! The theme this year is "Mutts on the Moon," and it's going to be out of this world! Entertainment, fun, and most of all MUTTS! On the MOON!
Get your tickets NOW at www.muttvilleseniorprom.org! Tickets include admission to virtual live show and DJ set, auction, games and fun!
Go to muttvilleseniorprom.org for tickets and more details on this first-ever Mutts on the Moon virtual bash!
Join us on the moon from your living room!
6:00-6:15 pm Cosmic Cocktails for Sponsors
6:15-7:00 pm Out of this World Program
7:00-7:45 pm Galactic Beats by DJ Fuego