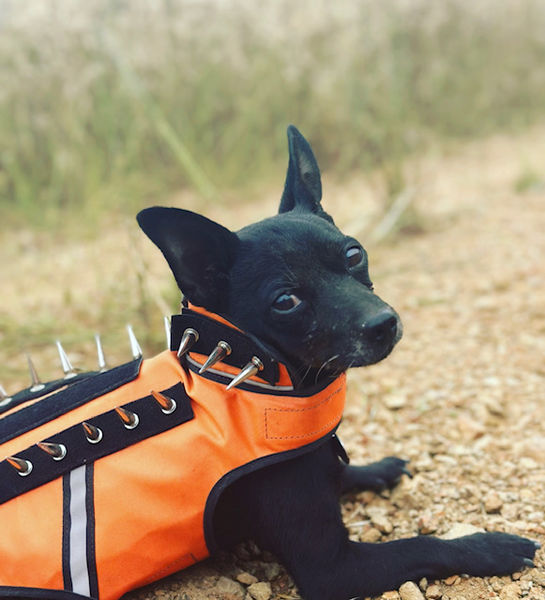 Thank you Muttville and Hayward animal Shelter for bringing us the greatest love.
We are so devastated to deliver the news that we lost our most perfect angel pup on August 25th.
When I told Patrick I wanted to foster a dog from Muttville, his only request was no chihuahuas "they are the WORST." Alas, all they had was one dog in early Covid days, and he happened to be a chihuahua. Anyone who knows Patrick is well aware that his wardrobe is now filled with chihuahua t-shirts and his Instagram feed is primarily of chis!
When I picked up Dobby (then named Tim) from the senior dog rescue Muttville in April 2020, he was so shy. So timid. So innocent. We were told he was likely a hospice dog as he was so emaciated when he was found on the streets of Hayward a few months prior. He quickly proved them wrong.
Our incredible Dobby brought us the greatest joy over the next 3+ years. He was full of love and sweetness. His zeal for adventure was palpable, with his iconic smile and happy tail wag. On our first hike, he struggled to make it a few miles, with frequent patellar subluxations and obvious pain. He was so determined to get stronger so that he could keep up with his wild parents. This summer he made it on numerous backpacking trips, trekking 40 miles across the Trans-Catalina trail. Two weeks ago, we hiked to Star Lake and ran to the highest point in Tahoe, Freel Peak. He pranced along with eagerness and joy. He experienced more adventures in his short time with us than many people do in a lifetime-so many visits to national parks, paddle boarding, one wheeling, mountain and road biking, backcountry skiing, trail running, backpacking, the list goes on…
His incredible fitness and desire to adventure completely masked that he had a malignant mass growing on his spleen. Three days before his passing, he stopped walking, and that was the only sign he gave me that he was sick.
In his final days, Patrick and I carried him on all his favorite hikes and took him to the dog park where he was kissed by a golden retriever (he always had a thing for tall blondes). We watched movies and cuddled for hours. We almost made it to the end of Cruella, when he inched his way closer to his daddy's face. I opened his mouth to give him some fluids, when he quietly faded with both of us by his side. Never a sign of pain. No excrement, no vomiting, no seizure. He gently slipped into the next life, never wanting to be a burden, just as he so shyly and lovingly slipped into our lives.
He brought us so much bliss and love. He taught me that our hearts always have the capacity to expand; to love greater and deeper no matter how much loss we've experienced. I was told by a friend that I gave Dobby purpose. But, it was such a reciprocal purpose; he made me feel like the most valued and loved human in the world.
As I reflect on our short time together, I can't help but feel we had our little guy in our worlds for much longer; I am reminded of the broadway musical Rent's "Seasons of love." Love, and the depth to which we allow ourselves to experience it, is the most meaningful way to measure time. We will love our little Dobs forever and ever. We are so grateful that he has Patrick's dad along with so many beautiful furry friends (Charlie, Pierre, Bentley, and many more) on the other side of the rainbow continuum who welcomed him into a new glorious world. May you continue to adventure on, our sweet Dobs, aka Dobby foo foo, Snoop Dobs, Nobs. Your Dobby daddy and little mama will love you forever. Until we meet again, our sweet friend.
- Monica
Dobby's original bio
Tiny Tim is the perfect pooch! Tim is such a cute, spritely, sweet little guy. We can't believe he's a senior with his peppy little trot and puppy dog face! This guy gets around no problem and we think he would love days at the beach or hiking. He does like to cuddle too of course, he is a chihuahua after all. He would make the perfect addition to any household. Tim is estimated to be 11 years young and weighs 8 lbs. Here is what his previous foster has to say about him! "Tim is very sweet, quiet, and playful! He is fully house trained and has been at a house with a yard. He LOVES walks and also loves to stop and sniff. He has been going on 3-4 walks every day. He loves the grass and really enjoys basking in the sunshine and sniffing around the yard. Sometimes Tim can act a little shy with fast movements and appreciates calm and quiet reassurance every now and again. He is a total snuggle bug and loves to sit with his humans and burrow under the blankets. Tim loves to sleep in! He also really enjoys wearing fleece and puffy coats as he can get a little chilly, being a chihuahua and all! He does great with other small dogs, and can be a little intimidated by larger dogs. He love his crate also! What a guy!"