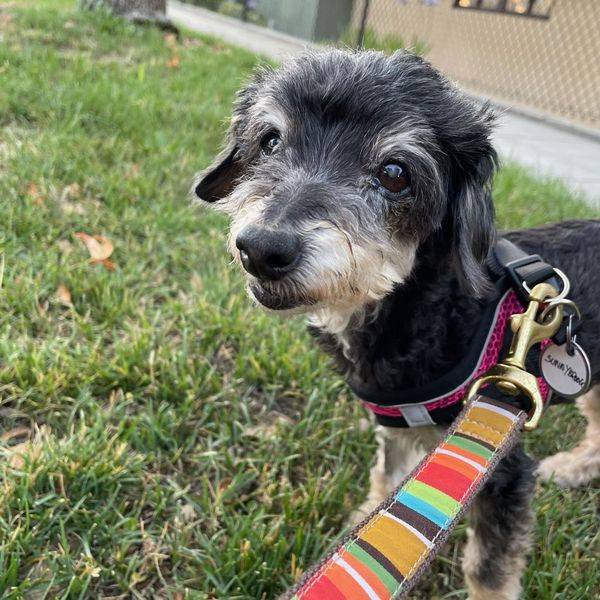 A love letter to my Sunnybrook
This story is about unconditional love and an incredibly special little dog who changed my life forever in the two weeks that I had her in foster.
I started volunteering at Muttville a year and four months ago, after an incredibly painful time in my life when I lost my five beloved senior dogs within just a couple of years. I knew I wasn't going to be ready to adopt again for quite a long time. My heart was so broken. A few months ago, I started fostering for Muttville and to my surprise, I was actually able to foster without trying to adopt all of my fosters, probably because I knew I still wasn't quite ready to adopt again. Though, my volunteer work at Muttville and being a foster mom provided me with a heartwarming bridge to a place where I could imagine adopting again at some point.
Enter my Sunnybrook. Have you ever fallen in love via picture? I did. Sunnybrook came to Muttville in a state of incredible neglect and our amazing vet team did everything they could to help her get well. Despite whatever she had been through, she was the sweetest, most loving soul. While I didn't start off as her foster mom, through the universe's twist and turns, I so very fortunately became her foster mom.
Every day, I fell more and more in love with this precious little ray of sunshine. We spent all day, every day together, cuddling, playing, eating yummy food, having doggie ice cream, taking walks to the park. I was preparing emotionally for her to be adopted by someone else and I started to become incredibly heartbroken about it. Again, due to the universe's twists and turns, she was available to be adopted – by me. I filled out the application that day. I was overjoyed. I told her she was going to be loved every day for the rest of her life. And she was – deeply.
To my great devastation, our time was cut so very short, but my love for Sunny cracked my heart open and changed my life for the better in every possible way. The two weeks we spent together were so precious to me.
My Sunny girl, I hope I was able to convey to you how deeply loved you were and are and how much your life mattered. I will love, cherish and honor you every day for the rest of my life, my sunniest girl. I love you forever. – Mama
Sunnybrooks original bio:
Sunnybrook is a lovely Poodle mix who is incredibly sweet and friendly. She gets along well with people and other dogs. She is gentle, dainty, and always polite. Sunnybrook is the kind of dog who warms your heart with her loving nature. She is always ready to greet you with a wagging tail and a big smile. Whether she's meeting new friends or spending time with familiar faces, Sunnybrook is always happy to make everyone feel welcome. Her friendly and approachable personality makes her a favorite among everyone she meets. Sunnybrook is just a bundle of joy and sweetness.
If you're looking for a dog who is super sweet, friendly, and gentle, Sunnybrook is the perfect match. With her polite and loving disposition, she'll quickly become an adored member of your family.