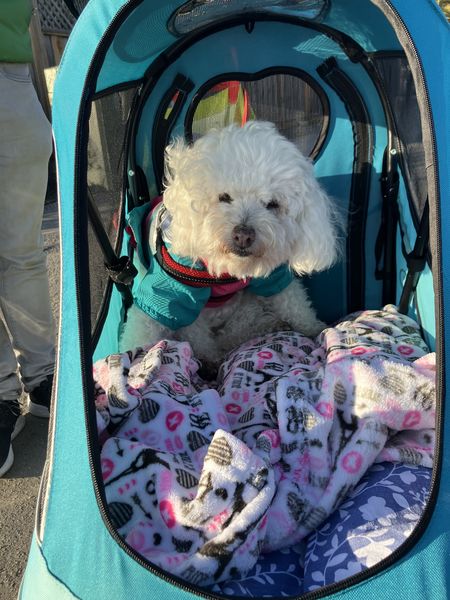 Pickles (fka Eleanor), a Muttville Hospice pooch I adopted in 2021, passed on Saturday, April 1st. I made the very difficult decision to put her to sleep due to a lot of factors that showed me her quality of life was decreasing. A wonderful veterinarian came into our home and she passed on her favorite sunlit couch, while I gently petted her head and gazed lovingly into her eyes. I had the whole week off from work beforehand, so we spent every moment together doing her favorite things until her passing. She had a wonderful adventure at the beach the day before she left.
When I first adopted her, I was told she would only be around for a few more months. However, as her regular vet said, she just kept "ticking like the Energizer bunny" and she kept holding on, I think because we were so, very happy together. The way she would perk up from her usual napping or turtle-like states to sprint like a cheetah, hop, jump, and play at the most random times made people think she would live forever. She was a funny, little goose and I truly thank all of you from the bottom of my heart for allowing me to keep her alive and as healthy as she could be for as long as I could. I certainly appreciate the knowledge that it was a costly endeavor on your ends, and I don't think anyone expected she would continue living as long as she did.
I am writing to say thank you so much for all the magic you do with this program. I would not have been able to adopt her and have her in my life for the past almost-two years without Muttville's guardian angels paying for her very frequent, costly veterinary visits, medications, and prescription foods. She was truly the love of my life and I am eternally grateful you folks at Muttville gave me the opportunity to keep her until her last breathe.
I've attached some of my favorite pictures of her on our shared bed, couch, and at work with me. She was quite a goofball. I knew it was time for her when she stopped doing her joyful old lady zoomies a few weeks ago. Pickles' gentle spirit and I thank you deeply for all you have done to change our lives and we wish you all the very best. I thank you so much, and if she knew what all you did to keep us together, she would say thank you, too <3.
With immense love and appreciation,
Jessica Chu