I've had many dogs in my life. One thing all dogs have in common is that each one is unique! But unique in different ways. Mary Jane and I adopted Maya from Muttville in 2019, a few weeks after Sparkle crossed over. She was not intended to be a replacement, in fact, she was more of a tribute to Shia, the 5-yr-old Pomeranian we adopted. Shia had been a foster in my dog park group, and with a chronic bad heart, that made it difficult to find him a home. But Shia became a loving member of our family for the last 5 years of his life. From the day he joined our home, he knew he was home.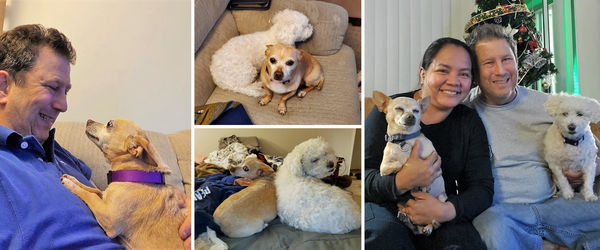 When Sparkle crossed, I told MJ that it bothered me that an older dog might cross over without having a forever home. MJ took a look at the Muttville website, and Maya was first on her list.
When Leslie, her amazing foster mom, brought Maya to our apartment the next night, she cautioned us that Maya didn't warm to people easily, especially men. In fact, Leslie was kind of surprised that Maya grudgingly took treats from me. It was only later that I was to realize how uncharacteristic that was. Indeed, it took a couple of weeks for Maya to warm up to me. Although I was her primary dog walker, MJ had to put the leash on and take it off! But once those two weeks passed, she and I became very close; she loves to sit on my lap, or curl up on my chest, tucking her head under my chin, or in my armpit. It's very sweet.
By the way, Maya's other best friend is Sammy, a Muttville volunteer; to this day, Sammy sees her at the dog park every month or so; and Maya excitedly runs/waddles to her as soon as she sees Sammy!
Most dogs get very excited when her person comes home. Because, in all candor, there seems to be a bit of Pavlovian reward/expectation involved with that greeting. Daddy's home, means a walk, means a treat, means a belly rub.
Maya likes her walks. When she wants one. Any of my other dogs, come back from a long walk, wave that leash and they'll go nuts like they've been cooped up for a month. Not Maya. Too early in the morning, she'll look up at you holding the leash, and just snuggle that much more under the blanket. Oh yes, that's her normal nighttime location. Head on our pillow, blanket tucked under her neck! Even later in the day, she's not always thrilled to go out, unless she's thrilled to go out.
Coming back from a walk is another ritual. CurlyQ charges into the house. Not Miss Maya. She stops at the welcome mat and waits for the leash to be removed. And then, only after being invited in by name, will she strut, head held high, across the threshold.
She's not grateful for belly rubs. She expects them, she is entitled to belly rubs. And the way her eyes close into little slits in satisfaction is reward enough!
That's the thing about her. She seems to put a great deal of thought into just about everything she does. When she walks, there are times she digs in her back legs if she doesn't want to go, like, past the dumpsters, she needs to be carried.
When she gets in bed, she doesn't just lay down. She spends a good five minutes moving the blanket, or my bathrobe creating a nest, so she can rest her head properly, and be snuggled and warm, before settling in.
She's not giving her love because she wants a treat or a walk. She's giving her love and her attention because she wants to.
A few months after adopting Maya we were asked to take in CurlyQ who had belonged to the elderly mother of MJ's coworker. She couldn't keep her when forced to move. It was a tough choice, even though she needed a home. Maya had only really become comfortable with us about six weeks earlier. I didn't want to disrupt her, especially with a younger, larger dog. But I agreed to meet them at the dog park where Maya took an instant dislike to Curly; I grudgingly agreed to a weekend trial. By Saturday morning, it was like they'd been together for ever!!
But from day one to now, it is clear Maya is the Alpha. I've never seen them fight, except play fighting, and Maya rules. Curly won't take a treat if it lands near Maya and won't fetch her toy if she has to go around Maya, even though Maya doesn't fetch (her mouth is too small). CurlyQ is adorable, but she loves everybody. Her first day here, it was like she was here forever. Maya took her time to choose to make this her home; to make us her family.
That's what makes Maya special and unique. Her love and loyalty are not given casually or easily. But once given, it is unbreakable. Her trust and affection are not given or taken lightly, and once given, it is forever.
As I said in the beginning, it was important to me, whether for a month, a year, or if lucky, longer, to give the gift of a permanent home to a senior dog in need. I never imagined that the gift given in return could be so much greater.
Mark & MJ
Are you the proud parent of Muttville dog? Send us your story! Include three of your favorite photos and send it to success_stories@muttville.org with the subject line 'Success Story'.