Momo is the SWEETEST and is everything we were looking for in a dog. We have found she makes a fantastic couch potato but is happy with walks and even up for some adventures like long walks at the park, Big Sur, or the beach.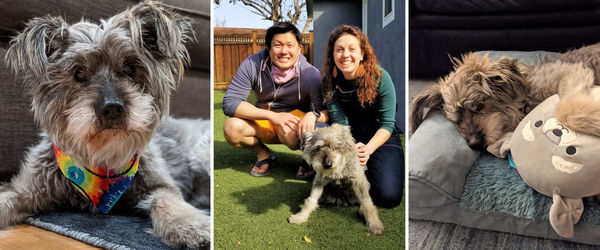 We are also ecstatic to report that Momo's right eye is completely healed from the corneal ulcers and the left one is nearly there!!! YAY! In addition, her fur is growing back nicely, and her skin has had no issues!
Momo is adored by all. Everyone who has met her thinks she's super adorable and sweet. She gets compliments when we walk, and her new biggest fans are my mom who wins her heart with treats and my sister who has been making her custom bandanas, so her fashion is on point.
We are so grateful to Muttville for taking Momo in and giving her a new start as well as bringing her into our lives. We are equally as grateful to her foster dad, Al, for his dedication to Momo's eyes.
She gets to keep two beautiful eyes thanks to you! She's only been with us since January, and we can't imagine life without her. It almost feels like she's always been with us.
Much love,
Kat, Timmy, and Momo
Are you the proud parent of Muttville dog? Send us your story! Include three of your favorite photos and send it to success_stories@muttville.org with the subject line 'Success Story'.