Carmelo, aka Glowworm, just turned 14 years young!! Carmelo loves a good walk, enjoys his favorite Hawaiian shirt, and loves to snuggle under the covers. Carmelo was the first dog we adopted from Muttville. Two weeks later we followed up by adopting two more dogs; Ruben, a Chihuahua and Bee Bop, a Terrier mix. One-month later we adopted Chica, a Pitbull from the Stockton animal shelter. Last month we found a little black kitty, Muffy in the trash can at school, she now lives with us, too. Carmelo has been to Carmel twice where he has partaken in five-star dinners.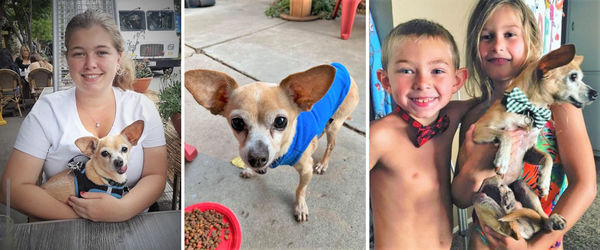 He's enjoyed playing in the ocean in Santa Cruz and strutted his stuff on the boardwalk. Carmelo has also enjoyed hikes up to the Mokelumne River and bathed in the river as well. It's a group effort managing all our animals, but we have plenty of help in the home with my animal-loving children. Carmelo sleeps with my 16-year-old daughter every single night faithfully under her covers. She is high functioning autistic but loves the dog being with her, it reduces her anxiety. Bebop sleeps with my youngest son every night with his head on his pillow. The Pittie sleeps with my youngest daughter taking up most of the bed and Ruben shares my bed. The cat is with my 20-year-old every night.
Everybody does very well in sharing with the responsibilities of taking care of our little dog farm. Happy birthday my sweet boy. Here's to many more years!!
Alcy
Are you the proud parent of Muttville dog? Send us your story! Include three of your favorite photos and send it to success_stories@muttville.org with the subject line 'Success Story'.