Dear Muttville,
It's been a year and a half since we adopted Essie (fka Essex), and we are treasuring each day we have with her. For the first couple months— while she awaited surgery on a mammary tumor—Essex was our Muttville foster. Although she was rescued with dozens of other Boston Terriers, she was bossing around the other small dogs at Muttville HQ and needed to be kept separate. We figured she'd get along at home with our own easy-going big dogs, but assumed that as "big-dog people," we wouldn't be so-called foster failures THIS time.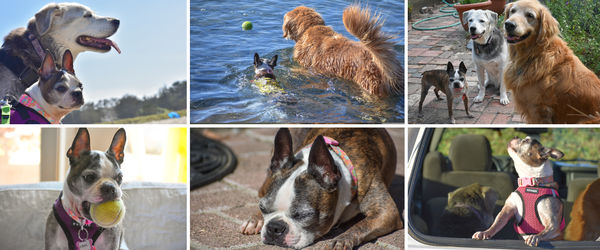 Well, it turns out that 14 (lbs) is just a number, and Essie (aka "the Bug") is not the sort of girl to let size define her. She wanted to stay—and through the power of her big eyes and tiny smile, Essie always gets her way. While she's happy to be a cuddly little lap dog, she also fetches like a retriever, eats like a horse, and snores like a bear. Everything the big dogs do, she wants to do. When our Golden Retriever goes swimming, Essie launches herself into the water after him. Throw a ball and she beats him to it every time. Early on, we learned that Essie is ball-obsessed (soccer balls, tennis balls…wool dryer balls). She chases them, chews them, and sometimes just cuddles with them—all while making happy grunting noises.
Whether we are relaxing at home or out birdwatching, Essie is always a perfect companion. She never seems to tire. Even if we've had a full day of hiking, she requests a half-hour of "ball time" before bed. But it is a polite request; in fact, she is the most well-mannered dog I've ever had. We haven't had the opportunity to get her certified as a therapy dog, but when introduced to a friend in hospice, Essie snuggled up right next to her. Essie's still got personality to spare, but she gets along with everyone, and is now much more relaxed around other small dogs. (She gives any little dog that passes her a hard Paddington Bear stare, though.)
Thanks to Muttville and Mission Pet Hospital, Essie's mammary tumor is gone and her rotten teeth were extracted (she has only about a dozen or so teeth left). The vet also diagnosed her with a heart condition rare for dogs. This doesn't seem to affect her energy though, and although it is tempting to coddle her, Essie has made it clear she wants to live her life to the fullest. We feel honored to be the ones to make that possible for her.
Kate
Are you the proud parent of a Muttville dog? Send us your story! Include three of your favorite photos and send it to success_stories@muttville.org with the subject line 'Success Story'.