Hello my name is Susan Wing and we adopted Emma (Moira) on March 28th. This poor 5lbs baby had rotten teeth and her eyes were black down to her mouth. It was love at first sight! I got her into our vet and had teeth taken out (only 3 left). Then I started working on those eyes. It took months but her sweet tiny face looks so great now! Emma and our dog Annie tolerate each other. We'll see them laying together. So cute! Emma is quite the character she watches tv. It's amazing to us how she watches and seems to understand. Emma doesn't like animals on tv, violence and red/yellow colors. She'll bark and bounce off my lap to attack the tv! I purchased some receiving blanks and when she goes off at tv I throw one over her head and that calms her down. I love Emma and she loves me. She's by my side, in my lap or arms all day long. What did I do before this special creature came into my life? Thank you Muttville for all you do! ♥️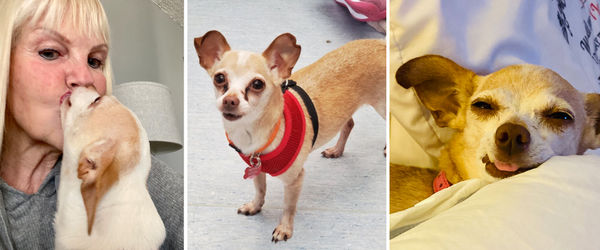 Thanks again for my Emma. Love her to pieces!
Susan
Are you the proud parent of Muttville dog? Send us your story! Include three of your favorite photos and send it to success_stories@muttville.org with the subject line 'Success Story'.