My daughter, Liza, who was a frequent volunteer, brought Miss Mazzy to us in Florida for a Holiday Surprise! She was super scared at first, considering she was surrendered with another companion dog, which we were unaware of at the time and had been first at San Francisco Animal Control, then Muttville, then my daughters house then our home all in two weeks time. But it took only days for her to latch on to us and we have not let her out of our site since. She is the perfect companion lap dog I always wanted. We have in the past only had large breed dogs and I knew it was time to get an easier travel companion since we split our time between Minnesota and Florida. She is now our beautiful baby and is the leader of our pack. She loves long walks and belly rubs. She is the most fussiest eater ever. She often turns her nose up at fresh steak, chicken, and fish. We did do a DNA with Embark and she is 50% Shih-Tzu and 50% Poodle. Thank you Muttville for all that you do!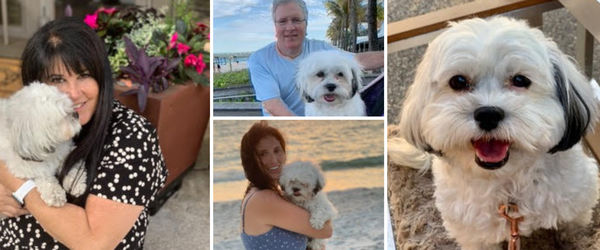 Bobbi Heiligman and large family
Are you the proud parent of Muttville dog? Send us your story! Include three of your favorite photos and send it to success_stories@muttville.org with the subject line 'Success Story'.