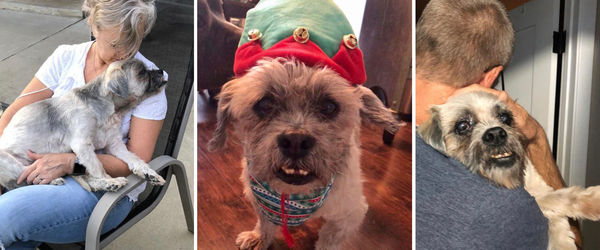 Hi Muttville,
Last October, we made the drive from Sacramento to Muttville, to meet and bring home Jethro, a hospice dog recommended to us by Muttville's adoption team via email. When we arrived, we went up to someone who looked official and told him we were there to adopt Jethro. He said Jethro was upstairs taking a nap. It seemed odd that he knew that, but we went to the room we were directed to, and sure enough, surrounded by a bunch of very active senior dogs, was Jethro, snoozing away. He was the tiiiiredest dog at Muttville. We woke him up, helped him to his feet, and he decided to walk or "wander" as we later came to call it. He just meandered, like a sloth in slow motion, and we followed. Jethro was extremely old, blind and deaf, so it wasn't an instant connection, but that wasn't the point. THIS was the dog we came for.
We told another official looking person that we wanted to adopt him, and she directed us to a room for our adoption counseling where we learned more about Jethro, who we had already re-named Alfred. We learned that Alfred was 16, had an eye disease requiring daily care, and a heart murmur, among other things. We also learned about Muttville's hospice program. Part of the counseling is to make sure the adopter is willing to make the "hard decision" when it is time. Having done that just recently with an elderly foster dog who we ended up adopting, as well as a few times before, we knew we could. We also knew it would hurt, but we were prepared to take on the responsibility.
When we got home, our three other dogs welcomed Alfred with lots of sniffs and wagging tails. Alfred sniffed them back, but mostly enjoyed wandering on our lawn. We didn't know it then, but wandering in the backyard on the cool grass would become Alfred's favorite pastime (other than naps, of course). He had weak back legs, so we put runners all around our house, and we often assisted him in getting up. But on the grass, if he toppled, he could nearly always get up on his own, and get back to wandering. We also have two free range chickens, and unbeknownst to him, Alfred would occasionally "chase" them. For the past year, seeing him in his happy place with his canine and feathered siblings always brought a smile to our faces.
Because of his hearing and vision issues, Alfred wasn't a fan of being picked up or assisted when we first adopted him. "Who are these hands grabbing me and picking me up?" He would sometimes snap, defensively, if we spooked him. We learned how to assist him without scaring him, but over time, it didn't matter. Alfred learned to trust us as his people, whether we came at him from the front, back or sideways. Those hands picking him up were his family. Over time, Alfred became our best cuddler, whether in our arms or our laps. Having Alfred put his head on your shoulder and relax always felt like a big reward.
A surprise perk of adopting Alfred was "meeting" Muttville volunteers and staff who followed Alfred's life with us on Instagram and Facebook. It was very clear that he was well loved by everyone there. I also think it was clear to them how much we loved him.
When we picked up that tired, old dog at Muttville, we honestly didn't expect Alfred to be with us for a full year. But our sweet old man initially got stronger and healthier, and so a year it was. We were lucky to share every holiday with him, and he experienced the same humiliation of being dressed up on Halloween and Christmas, just like our other dogs. Even worst, as our only dog with hair that never stops growing, he suffered through a couple "mom hair cuts." The results weren't great, but we both loved his spa days, filled with cuddles, massages, and the occasional bald spot.
When we felt it was time, as promised during our adoption counseling, we said goodbye to Alfred. We were fortunate to be able to give him his last kisses and cuddles in his happy place, our backyard.
While we are still very much heartbroken, we are also extremely grateful for our year with Alfred. He will forever be our sweet sloth.
Alfred's parents,
Laura and Bill