We are so incredibly happy to have adopted Miss Chunky (now Rosie)! Her personality has totally blossomed since we brought her home—she is spunky, knows exactly what she wants (and has a lot of attitude if she doesn't get it), and, best of all, is always such a joy to be around. She is also an endless supplier of laughs, snuggles, and kisses :) We are also happy to report that Rosie has lost some of her weight! She is now ~2 pounds lighter and has been going on some pretty long hikes with us. She is such a champion and has integrated incredibly well into our lives! Recently, Rosie got to help us celebrate Chrissy finishing her Ph.D. on the Berkeley campus, and then joined us on a camping trip to Lassen National Park—Rosie loves spending time outdoors, particularly when it involves exploring new smells and getting to bask in the sunshine! She's extremely smart, and she usually positions herself to be able to chase chipmunks and still get to enjoy all the smells from our grill :)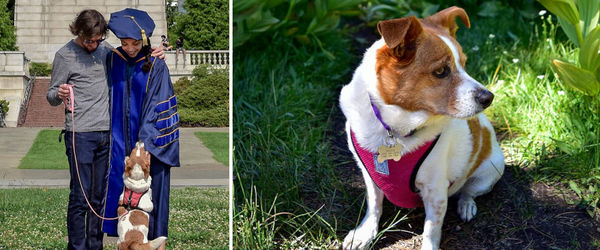 Best,
Julian, Chrissy, and Rosie
Are you the proud parent of Muttville dog? Send us your story! Include three of your favorite photos and send it to success_stories@muttville.org with the subject line 'Success Story'.