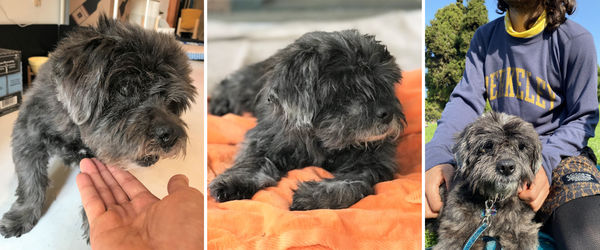 Having Captain (Maurice, Ugwu) in my life has been an absolute blessing. He's a truly delicate and sweet boy, who never gives any fuss and radiates an easy-going attitude.
Without his vision, he depends on his other senses and so when he's not napping, his 'Roomba-ing' around the apartment is a non-stop cute sight to see. Don't look down when walking Captain on a leash or you'll quickly be dizzy from all the circling and back and forth. He has a very keen nose and usually goes around each section of our walks a few times to make sure he fully sniffs them out. Captain never forgets a meal…he tries to urge me for more food just about every day with his puppy eyes! He loves sleeping in late into the morning and enjoys his daily nap(s), which I love for encouraging me to join him! I am grateful to Muttville for connecting me with Captain.
Best, Julian
Are you the proud parent of a Muttville dog? Send us your story! Include three of your favorite photos and send it to success_stories@muttville.org with the subject line 'Success Story'.