Hello!
We'd like to share Mandu's story with Muttville to be posted on the website. I've added some photos as well.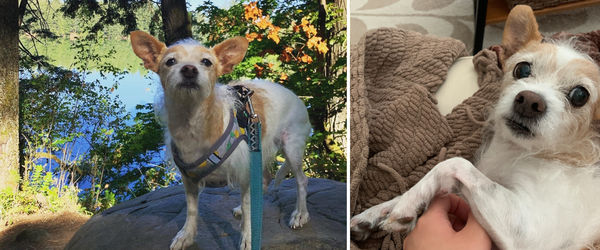 Thank you for bringing Mandu (formally Veronica) into our lives! She is the sweetest, gentlest, most loving dog. She instantly bonded to me from day one, but took some time to get used to my husband. To be fair, it took him some time to get used to her as well since Mandu is his first dog ever. Now he is solidly a dog person and loves her and sneaks her pets and treats when he thinks I'm not looking.
She loves her walks and can hike a solid two before getting tired. She seems to like being carried in a bag, even going on bike rides in it. She loves her food, whether it's her kibble or treats. Her favorite spot is to snuggle in between us on the couch, with her head resting on my husband. She loves meeting other dogs and chasing birds in the park.
Within a few months of adopting her, a lung tumor was found on a screening chest X-ray. Her vet and Muttville has been very helpful as we transition her to hospice care for her presumed lung cancer. She is doing great and has no idea she has cancer! We are so blessed to have her with us so we can spoil her like crazy during her golden years.
Are you the proud parent of Muttville dog? Send us your story! Include three of your favorite photos and send it to success_stories@muttville.org with the subject line 'Success Story'.