TUESDAY, OCTOBER 20
Yoga on the Labyrinth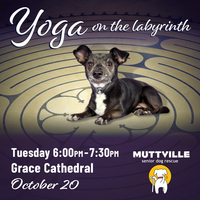 Grace Cathedral
1100 California St
San Francisco
CA 94108 map
6:00 - 7:30PM
Please join Muttville for Yoga on the Labyrinth! The mutts will be on site to greet you before you participate in a gentle and nurturing yoga class held inside beautiful Grace Cathedral. The class is taught by yoga teacher Darren Main, with a short reflection by one of the cathedral's clergy. This class is appropriate for all ages and abilities!
Please bring a yoga mat. If you don't have a mat, there are some to loan for a small donation, but sometimes they run out.
The class is popular, so arrive 15 minutes early to be sure of a spot and to say hello to the mutts!
A $10 to $20 donation is suggested for the class, and if you'd like to donate towards Muttville's lifesaving work we will also be collecting donations on site!