WEDNESDAY, OCTOBER 21
Maison Ullens SF Pop-Up!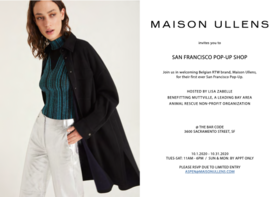 The Bar Code
3600 Sacramento Street
San Francisco
Join The Bar Code in welcoming Belgian RTW brand, Maison Ullens, for their first ever San Francisco Pop-Up!
Hosted by Liza Zabelle and benefitting all the mutts at Muttville—shop for your favorite cause!
This special pop-up is happening the whole month of October! Stop The Bar Code by any time Tuesday–Saturday from 11AM to 6PM or make an appointment for a shopping experience on Sunday or Monday.
Please RSVP due to limited entry by emailing aspen@maisonullens.com!