TUESDAY, OCTOBER 13
Amazon Prime Day!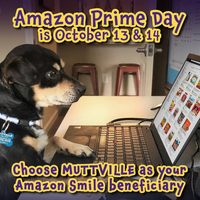 SHOPPING AMAZON PRIME DAY? HELP THE MUTTS, TOO!
Tuesday and Wednesday are Amazon Prime Days. That means there are tons of deals available to Amazon Prime members. If you're planning on shopping, please make sure you go through smile.amazon.com with AmazonSmile ON in the Amazon shopping app.
If you designate Muttville as your charity of choice, the mutts get a cut of every qualified purchase – at no extra charge to you!  (That's true EVERY day, not just Prime Day, but this is a good reason to mention it!)
Here's how you make sure Muttville benefits from every Prime purchase you make on Amazon:
1. Go to smile.amazon.com
2. Log into your account and select Muttville as your supported charity
3. SHOP SHOP SHOP!
To turn on AmazonSmile in your Amazon app:
1. Open the app and find 'Settings' in the main menu (☰)
2. Tap on 'AmazonSmile' and follow the on-screen instructions to turn on AmazonSmile on your phone
Every time you use Amazon, in fact, make sure you go through smile.amazon.com. Same shopping experience for you, plus the mutts get a piece of the action!