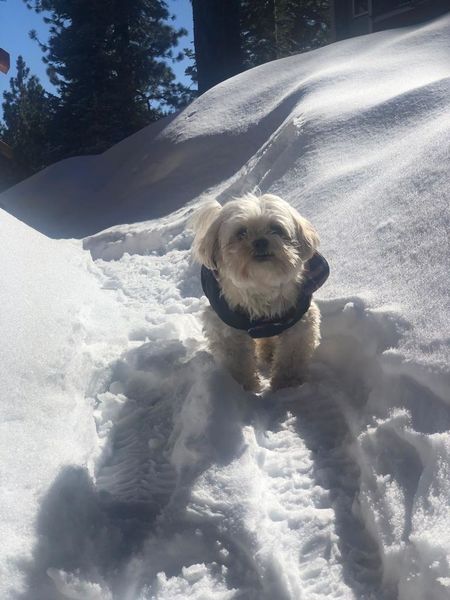 Our precious baby boy passed away peacefully after a long bout with congestive heart failure. Anything I could say about the pain we feel and the hole he left in our hearts would fall short. He was everything to us.
With us, he visited six states (California, Nevada, Oregon, Washington, Illinois, and Minnesota), where he proved to be very patient on long drives and a calm, silent flier. He visited beaches, mountains, corn fields, and saw snow, sun, and everything in between.
He loved going on long walks with us, walking up to three hours continuously in the early days. He suffered the pandemic with us, moved to our new house with a deck he could regularly sun on, and last November welcomed our daughter into the world with the same love he gave us. We loved him like family.
Martin's previous caretaker took him into a San Jose animal shelter to be euthanized for having seizures. Martin had no neurological problems and did not have seizures. We know because we took close care of Martin's health, including seeing a neurologist. Eventually, Martin began to have pass out episodes.
Through a winding road of specialists trying to pinpoint the problem, we found Martin was suffering syncope with the help of a cardiologist. He was diagnosed with congestive heart failure in January 2022. Martin was prescribed medicine to help his little heart compensate and saw quite an encouraging turnaround in his symptoms, with his syncope almost eliminated in time. Eventually, though, Martin's age was catching up with him in a variety of other ways. Medicine can help for a time but can't forestall death.
Myrna and I want to thank everyone at Muttville for what you do. In Martin's paperwork, there's a black and white photo of Martin in a cage from the San Jose animal shelter. No one cared about him when that photo was taken.
Shortly after, he was brought into Muttville's care, and then our care. Within a matter of days he went from meaning nothing to anyone to meaning everything to us. Years of joy and love came from your work, and we're just one story!
- Brian