A little more than five years ago, our Muttville alum, Teddy (fka Colonel Potter, from the Mash cohort!), was found wandering a field in San Jose.
This past summer, life for our sweet little senior mutt was quite different. Going on 15 (or maybe 14, or even 16, who knows!), Mr. T, as we sometimes call him, boarded an international flight to Paris and spent three months with us in France, mostly in a sunny town on the French Riviera called Menton.
He flew like a champ – under the seat without making a single peep. In fact, after we landed and pulled his carrier out, the person sitting next to me was shocked to learn we were traveling with a dog. His behavior on the flight home was equally admirable, proving what we already know – that Teddy is the calmest, most go-with-the-flow dog ever!
During his first four years with us, Teddy's life was for the most part stable – living with our family in Walnut Creek, going on regular walks, eating the same kibble. But after my husband and I became empty nesters a couple of years ago, things got a little more interesting and adventurous.
First, in the spring of 2022, we moved to LA and spent about a year there. I think Teddy really liked LA. Two other dogs, Grover and Harley, lived upstairs and they all enjoyed being together in the small, fenced-in backyard. Then, in May 2023, after putting all our belongings in storage and leaving LA, we traveled to the South of France, with brief stays in Paris and in a small village in the Beaujolais wine region.
During Teddy's time in France – when he wasn't snoozing in our apartment, that is – he tasted REAL baguettes and croissants, swam in the Mediterranean, rode on a train (for 29 hours, but that's another story for another time!), and did a little bit of sight-seeing in his stroller.
Interestingly, dog strollers aren't common in France, so Teddy was quite the spectacle as we pushed him around town or brought him out to eat. It's hard to get a chuckle out of a French person, especially a stranger, but this made for a good icebreaker! Even walking Teddy on leash opened opportunities for me to engage in conversation and practice my French – opportunities I never would have had without a handsome senior guy like Teddy by my side.
Teddy is now back in Walnut Creek. In between naps, he watches reruns of Rick Steves' travel show and can't wait for his next overseas adventure.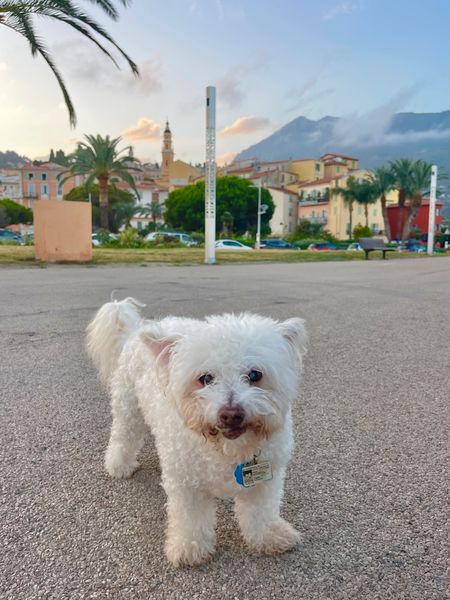 Are you the proud parent of a Muttville dog? Send us your story! Include three of your favorite photos and send it to success_stories@muttville.org with the subject line 'Success Story'.