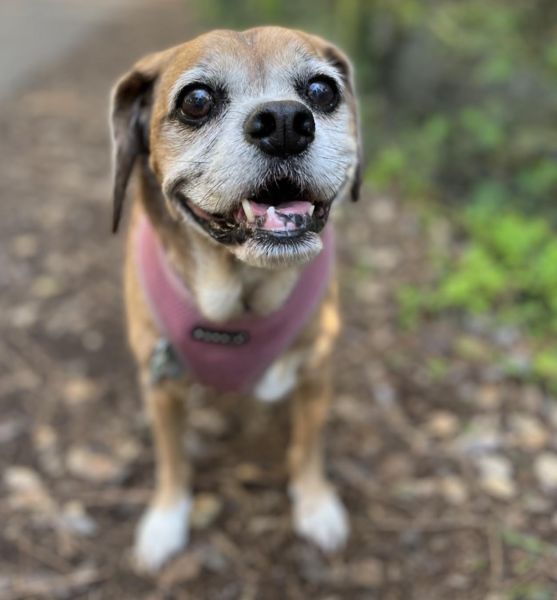 Like the rest of us, sweet "Thelma Girl" went through a tumultuous time in the spring of 2020, when she was surrendered to Muttville, whisked into a foster home, and then quickly adopted by me.
For the next three years we were pretty much inseparable, as Thelma loved being included in any and all outings and thrived as a city girl. She learned to ride Muni, met all her neighbors, and even volunteered for Muttville as an alum rep at outreach events. She loved everyone she met, and she was deeply beloved. There was no situation she couldn't make better just by her presence.
Though I'll never really know what her first 12 years of life were like, thanks to Muttville, I got to ensure her last three were full of adventures and cuddles. Without question, she made me a better human. Thank you to Muttville for giving me the best friend I've ever had — I miss her every day.
~ Andrea
Original Bio
Looking for love? Looking for bright days and lots of laughter? Looking to fill your camera with 5,000,000 cute pictures? Well look no further!! Thelma is the full package, she's not only a real looker, she is a constant tail wager. This little lady wants nothing more than to have someone in her life who will love her, dote upon her, and be her best friend forever. She lived with a couple who recently both have found themselves working 10+ hours a day, leaving little Thelma quite lonely. She gets along great with people, children, and other dogs. Thelma is up for exploring the world with you and taking long strolls, and also chilling out for a multi-hour Netflix binge. Whatever you are doing, she's game! This little girl is full of love and she's funny too. Be ready to be obsessed, as she's totally irresistible! Thelma is estimated to be 12 years young and weighs 26 lbs.