I'm sharing a few photos of Mr. Jones, who, we adopted as Indigo in the summer of 2014. His sweet little heart is still beating and we are beside ourselves with gratitude that he has been a part of our family for 9 years! (We met him during the Volunteer Appreciation event at AirBnB on Brannan Street in late July 2014.)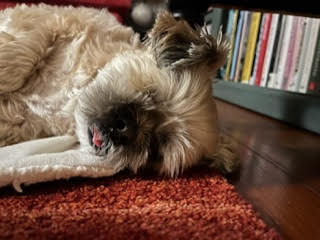 With the removal of a few front teeth this spring, the Muttville Salute is proudly given when he sleeps (which is most of the time). But, he still enjoys a good 30-minute walk each morning, close to an hour in the later afternoon, and a pre-bed jaunt around the block. Though fully blind and mostly deaf, he has incredible bladder control (!), can walk up stairs when he needs to (though is mostly carried), occasionally lunges at a rogue squeaky "guy" in his bed, and tap dances in circles at meal times like a puppy.
It's amazing (but not at all surprising, given the strength of your team!) to see how Muttville continues to save dog lives and change human lives every day. Our family, for one, is eternally grateful.
Mara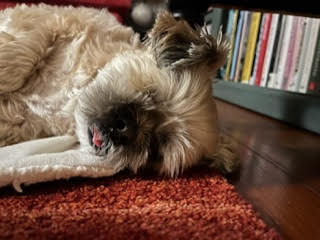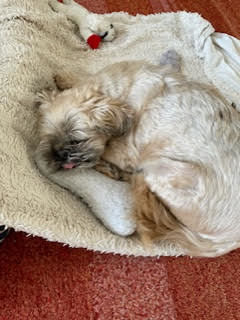 Are you the proud parent of a Muttville dog? Send us your story! Include three of your favorite photos and send it to success_stories@muttville.org with the subject line 'Success Story'.