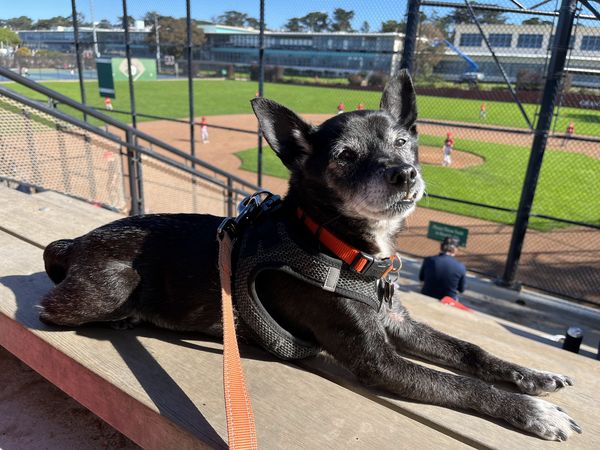 Cooper (fka Cashew) snuggled his way into our hearts on February 14, 2016, at 8 years wise. Within the first week we discovered that what was a suspected touch of arthritis was actually a previously broken hip that had healed improperly. With immediate FHO surgery by Dr. Gadde at the SPCA and six months of rehab under the caring expertise of Dr. Illana and her staff at A Well Adjusted Pet, we had Cooper bounding up hills and cozying up on every bed and couch he could jump up onto.
Cooper was a gentle soul who loved cuddling during movie nights; riding along on family adventures; cheering on his human siblings at their sports games; and playing officemate in our car during crazy COVID school schedules. He brought even more joy to the many birthdays, holidays and other life moments we celebrated together. He was content sunbathing at Baker Beach or Stinson, or in the afternoon sun that hit the couch just right. Cooper could read emotions like a pro and knew exactly how to be the best companion to each person in the family. His affection ran deep, and we love and loved him dearly.
For many years, Cooper was under the compassionate and skilled care of Dr. Lauren and the wonderful staff at Healthy Pets. As he approached his 7-year adopt-aversary with us, Cooper eventually confronted health issues that could no longer be remedied, and our family bid him a peaceful goodbye.
We wanted to say thank you to Muttville for helping to bring Cooper and us together. He completed our family in a way we didn't realize was possible, and we now miss his presence tremendously. We'll need a little time, but perhaps we'll be back to welcome another Muttville friend into our home.
Kara Montermoso
---
Cooper's original profile:
Everyone's going nuts over Cashew! This loveable little dude is a bundle of joy, always bouncing from room to room to greet everyone person and dog with a big smile and a wagging tail. They say he's a senior, but we think he acts like a much younger pup! Cashew would be a fantastic addition to any home that's not ready to slow down any time soon.
We think Cashew is 7 years young, weighing about 12 lbs.