Hi Muttville! Let us tell you about this little man, Guero, who has stolen our hearts! In May 2022, we were so lost and heavy with heartache after losing Ringo Starr. Ringo lived a whole 14 years and some months with me since he was 9 weeks, I was devastated. Perusing the profiles of Muttville mutts was comforting for me though my heart wasn't ready to adopt. The thought of the commitment was anxiety inducing after what we had gone through with Ringo. Then I saw Guero's profile in August and I knew I had to meet this "5-star Good Boy". I was set on him. My partner was blown away that I was already considering another dog. Something about Guero's wise little 10 year young face said so much about him and I wanted to know more. An exquisite presenting long legged gentleman, with such expression. When I learned he was at Muttville because his owner died and the owner's family surrendered him, it sealed the deal.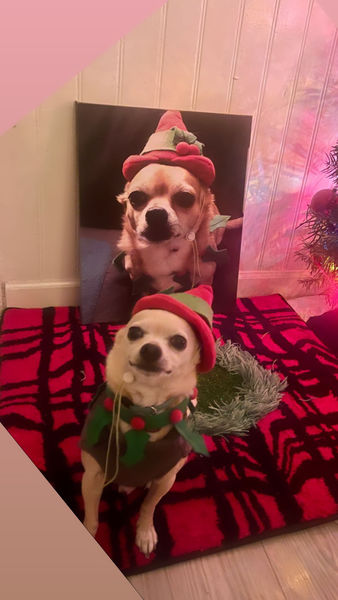 This little man has been such a joy for us to have in our home and at our store. It's been so nice to put some of Ringo's things to good use; even more special to notice Guero likes some things just as much as Ringo did, and that they also share some dislikes (Carmen Miranda inspired outfit). It's been wonderful to watch Guero's confidence blossom, including with new human and new dog friends. He has a tiny chihuahua girlfriend who is obsessed with him a couple of doors down from our apartment. He loves sunbathing in any sliver of sunshine he can find, including our shop bay windows. He is part coyote, part squirrel-y fox with impressive jumping power when he wants to play with his babies. He's assumed the position of shop dog excels at getting off the couch with his blanket still on him, trotting around the sales floor like a little burro. He is a gold medalist sleeper, cuddler, lick monster, and supervisor (micro-manager). We love new experiences with Guero! Recently for the holidays, he had a couple supervised prime rib bone gnawing sessions.
He is the sweetest little guy we could have ever imagined to meet, such a well tempered little fellow. Though there will never ever be a replacement for Ringo, we are so incredibly lucky we have Guero in our lives and are thrilled to ring in the new year with him. We know Ringo would approve.
Thank you, Muttville, for giving this sweet guy a second chance.
Are you the proud parent of Muttville dog? Send us your story! Include three of your favorite photos and send it to success_stories@muttville.org with the subject line 'Success Story'.