Hello Muttville, it's Romeo! You may know me as Canelo but this groovy guy I found one day gave me a name that suited me more. Anyways, I'm in a great home now thanks to the Muttville heroes and my human, but let me tell you my story… I had been left at the pound by my family after several years of being in their home. It was cold and lonely and a noisy place. I was scared and I couldn't understand why my family would leave me so suddenly. I went from a warm home with my woof pack to a cold damp lonely place. I was sick, my eyes hurt, my teeth hurt and I was in a lot of pain.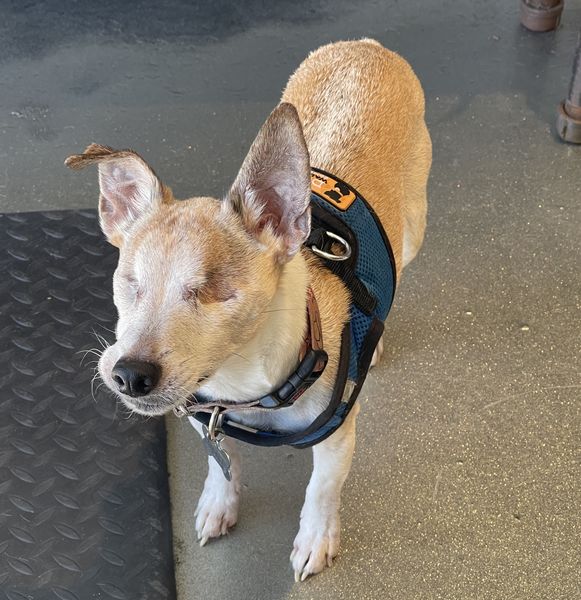 Not long after I was left there these amazing group of humans from a place called Muttville came and found me. They say not all heroes wear capes but I swear I saw one when I was taken out of the kill shelter and brought to my new temporary home at Muttville. I knew it wasn't my furever home but I felt safe and my heroes there made me feel warm and loved and not alone. I also met so many new Muttville dogs and human friends. They bathed me, made sure my tummy was full, and they had a doctor look at my sore eyes and mouth. Finally… I was so relieved I wasn't alone. I had people who cared!
I wasn't at Muttville long when I overheard this guy come in. He was friends with the founder Sherri Franklin. They seemed to know each other for a long time and once even worked together when she first started Muttville. He talked highly of her and loved her work. He seemed like a nice guy, and I overheard him talk about his love for dogs. That was my cue to turn on the charm.
Turns out Sherri wasn't there that day and he was there to visit a dog named Pony, a designer hairless dog but Pony was busy getting groomed and wasn't available that moment so I made my move. I walked over to this guy (his name was Berlin) while he was talking with the Muttville hero and I laid my head on his feet. I jumped up on his leg, I did everything I could to let him know "Hey I'm your dog, it's me! Pick me!"
Suddenly he leaned over and picked me up while he chatted with the hero. I felt so happy, warm, and comfortable that I fell asleep. I may have even been snoring. They talked for awhile but then I heard another hero say Pony was ready and my human put me down and left the room. I was so sad I went back in my bed in the corner. I thought "not again…"
I heard them talk in the other room and then to my surprise, my human came back and sat down again. This was my chance! I walked over and insisted that my human pick me up and jumped onto his leg until he picked me up. I couldn't believe it… here I was again in his lap—comfortable, happy and sleeping. I heard my the hero say, "I think Canelo has chosen you!" I overheard my human talk and he said Pony would probably be adopted very soon since he's a beautiful, designer dog. It was at that time I heard one of the heroes say "I think you've been chosen, he doesn't want you to leave without him!"
I think it was at that time my human realized that we were a team and that we really did belong together. I heard him say he couldn't leave without me and he couldn't imagine not taking me home. 'I was missing an eye, plus I was sore, sick, and my breath smelled horrible… how can I compete with that beautiful designer dog?' I thought. But here I was… in his lap fast asleep. Then suddenly I heard Berlin tell me I'm going home with him and I couldn't believe it! I couldn't believe my human chose ME and that I get to go to my new home!
Muttville is such an amazing organization. They arranged for me to have my eye and several teeth removed so I no longer had bad breath and was no longer in pain in my mouth and on my face. That's the incredible part of Muttville—they help their humans get there dog feeling good and pain-free when they adopt them and my human was no different. They helped him get me in a place where I could just enjoy my new home with my human.
My dad Berlin shows me how much he loves me every day. He takes me to work and he takes me everywhere he goes. He sleeps with me and he makes sure that if, and when my other eye became too painful to reach out to the doctor so that I could get that one removed too. Even without my eyes I never felt scared because my dad made sure to pick me up and put down properly and that I don't jump off things I'm not supposed to. He made sure to carry me when I need him to.
I also have two sisters that were rescue dogs, one was born while her mother died. She had doggie down syndrome, and my other sister was found hit by a car in Oakland and her tail was broken and had one eye. Regardless, we are one big happy family and we all love each other very much and we go camping and hiking with our dad often. He takes us everywhere. He never plans a vacation with out us!
My human Berlin loved me and loves Muttville. I hear him tell his clients all the time to adopt from Muttville, that it's his favorite place to find dogs like me. I love my human. I give him all the slobbery kisses to show him just how much I appreciate him. My favorite way to show him how much I love him is to fall a sleep in his arms just like the first time I found him.
Big thank you to Muttville and the Muttville heroes! You saved my life and found my human and I am forever grateful!
With much waggitude and woofs,
Romeo (aka Canelo)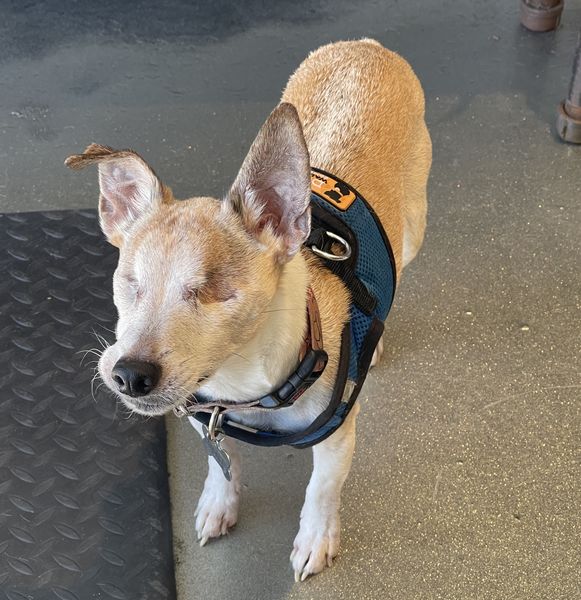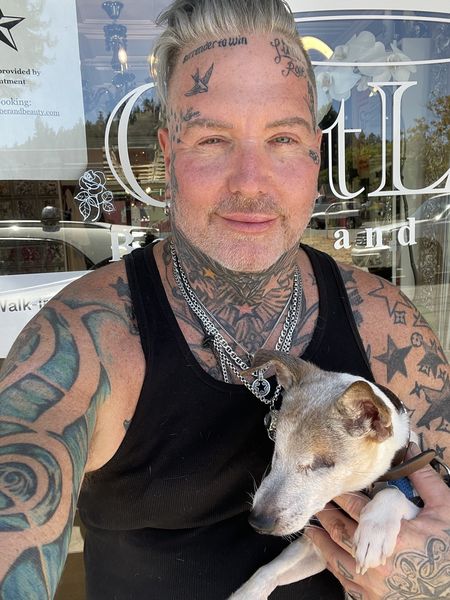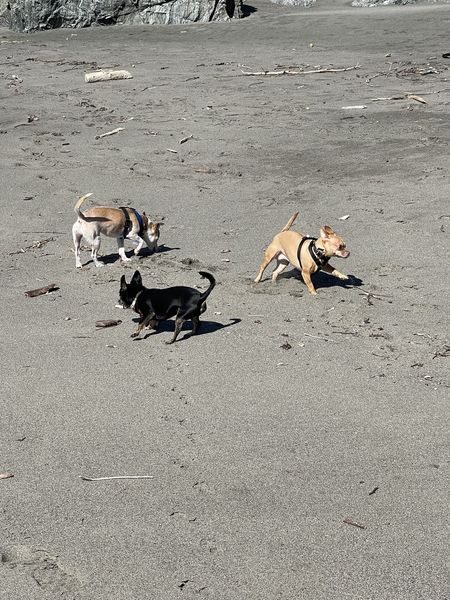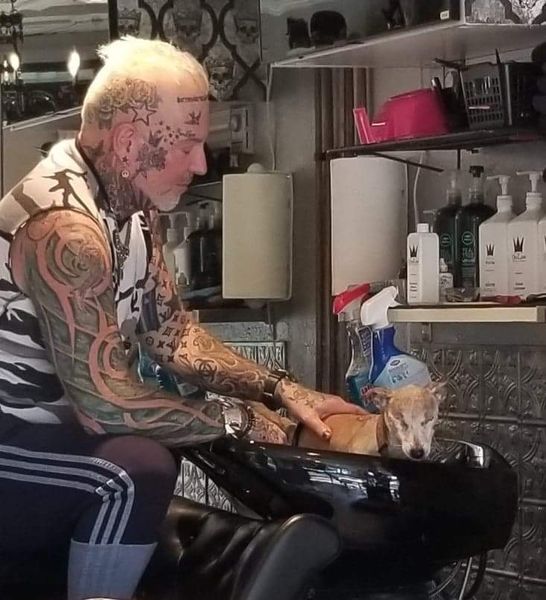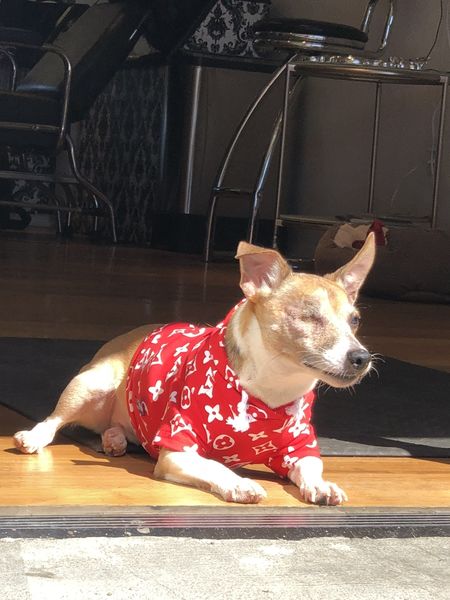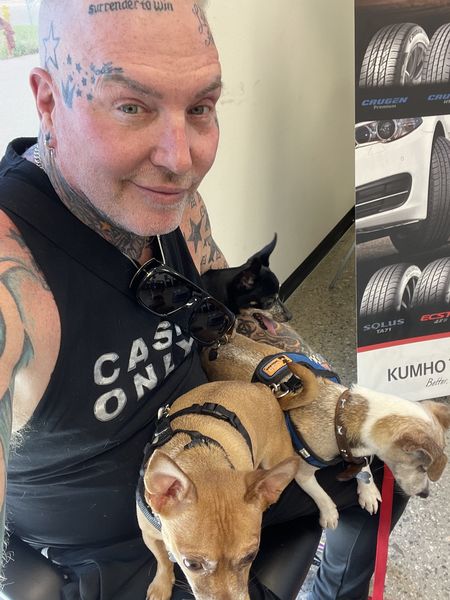 Are you the proud parent of a Muttville dog? Send us your story! Include three of your favorite photos and send it to success_stories@muttville.org with the subject line 'Success Story'.