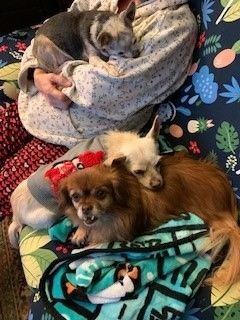 Dear Muttville,
Thank you so much for the opportunity to be able to give and receive all the love from our beloved pups we have received from you over the years.
First set of pics are of Gracie (fka Agatha) the tiny chihuahua who we adopted in January 2015! Still as sassy as ever and going strong! She doesn't realize she is small and rules her world!
Second set are of Roz (fka Bon Bon) the small short coated Pekinese mix who we adopted in December 2019 who unfortunately when she arrived in our home had no idea how to be a pup.. over the years she has learned from our other rescues and has blossomed into a beloved, sweet timid little girl who loves her buddy "Sid Vicious (not)" the white terrier/chihuahua mix we adopted from the Silicon Valley Humane society. Very first pic is of the current bunch of hoodlums who are so near and dear to our hearts.
I hope you enjoy our sweet pups, cheers to you and all you do!
Best,
Lynn Powers and family