I adopted Milkshake from Muttville in about March of 2019. Her estimated age was 12. Sadly, she passed away yesterday, July 21, 2022 after giving me more than three years of joy, love and laughs. I am devastated and cannot imagine life without her. She helped me get through the Covid era and a terrible bout of sciatica when I was largely housebound. Just looking at her made me smile. She had a huge personality and always wanted to make sure she was included in any action. All the preschoolers in the park across the street knew her name and always looked forward to seeing her. She made everyone around her smile. She was a big hit when I pushed her around in her stroller, as her arthritis made it harder for her to take long walks. The stroller became her mobile throne, and she loved to survey the passing scene in our Lake Street neighborhood.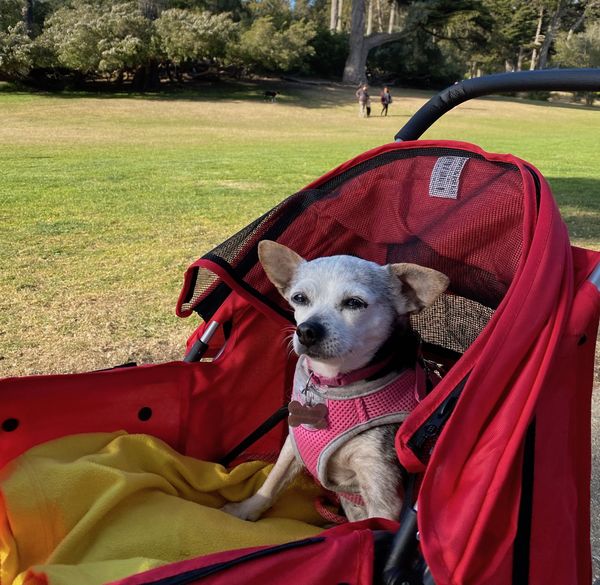 I will forever be grateful to Muttville for giving me the chance to be the guardian of such a special little mutt. I only wish our time together could have been longer than the 3 years we had. I vividly remember the day we met. She was in quarantine because of kennel cough, but she was standing on her hind legs, tail wagging, begging me to take her for a walk. She came home with me that day. And that was that.
I will be coming back to Muttville to offer my services as a volunteer and foster again. I hope I will be lucky enough to cross paths with another little mutt who will touch my heart way Milkshake did.
Rest in peace little Milkshake. You will be a part of me forever.
Thank you, Muttville,
Tracy Thompson
Are you the proud parent of a Muttville dog? Send us your story! Include three of your favorite photos and send it to success_stories@muttville.org with the subject line 'Success Story'.