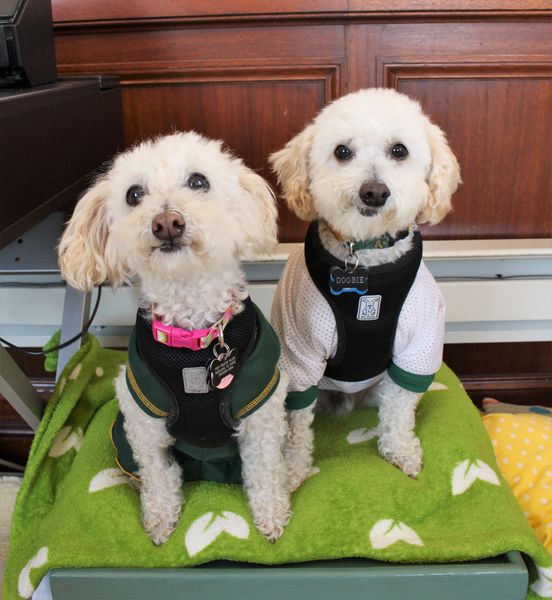 Goodbye Doobie, June 5, 2021
I said goodbye to Doobie today at the vet. Doobie was blind and deaf but could get around pretty well until recently. His nose still worked and for a while I could guide him with a nugget in my hand. He always knew when I left the room. You probably know he already had no teeth when I got him at age 7 but that didn't stop him! He still would gobble up his food even up to today's breakfast.
He had been declining over the past 6 months and the vet tried many medications but he just did not improve. His anxiety took over and he would pace and pant a lot and was (we were) hardly sleeping. He was losing track of where he was and how to get to where he wanted to go. And lately even his nose didn't work much anymore so he would get lost in the corners of the house and yard.
Doobie was a sweet joyful and goofy guy. He was so friendly and gave great hugs! Jake and I will miss him very much.
---
Original profile
Why take home one adorable poodle when you can take home two? Misty and Doobie are two peas in a pod that can't wait to find their forever home together! We don't know much about their pasts, but its obvious these two want nothing more in life than to love and be loved. Misty and Doobie may seem a bit shy when you first meet them, but we just think that's due to all the recent transitions in their lives. We're sure that they'll blossom into confident and silly mutts once they're in a loving home.
We think Misty is 11 years young, weighing about 11 lbs.
We think Doobie is 10 years young, weighing about 17 lbs.