Hi, Muttville,
NiNi is doing great and is such a wonderful addition to the family. We are all at home all day, so she gets lots of attention. She loves going for walks, getting petted and treats! She's pretty chill. She doesn't really interact or react to other dogs (or cats, squirrels….).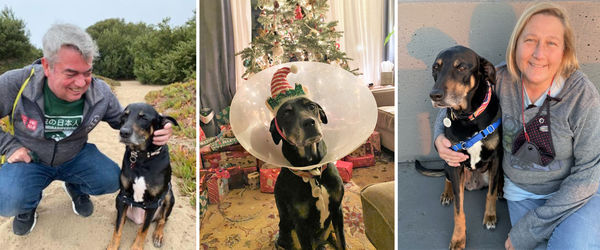 Nini is very calm except when she goes to the vet, gets very nervous! She had a growth on her eye removed in December, hence the cone at Christmas. The growth was benign. She's healthy and happy. We love her very much especially when she lies on us on the couch for a snooze.
Cheers,
James and Kari
Are you the proud parent of Muttville dog? Send us your story! Include three of your favorite photos and send it to success_stories@muttville.org with the subject line 'Success Story'.