I remember when I first started fostering senior dogs with Muttville Senior Dog Rescue, I was told about their Hospice Program. Muttville covers palliative costs for dogs that arrive at their shelter with untreatable terminal illnesses. I remember thinking to myself, "Wow, I could never adopt a hospice dog!" Even after fostering a hospice dog, I remember being in such awe that there were people out there who could find it in their hearts to adopt a dying dog.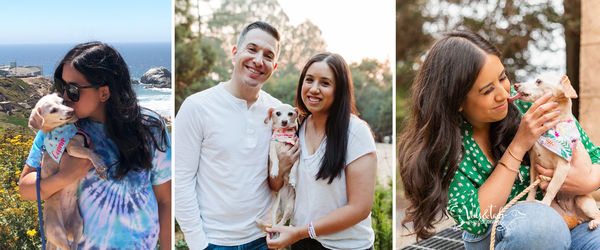 When I met Connie, it was love at first sight. My husband and I started fostering her in December 2019. She was our 15th foster dog and we had never "foster failed" before. We had been fostering her for about a month and a half when I received an email from the Muttville Vet Team – Connie was now a part of their Hospice Program. She was diagnosed with advanced heart disease and had fluid around her heart. They estimated she had about 6 months left to live. We knew there was no way we could give her up, and that she deserved to spend whatever time she had left continuing to experience the love and safety she had found with us so far. Although Connie is 13 years old, hard of hearing, and nearly blind, she has so much energy and has the biggest personality! She is a true testament to how much love senior dogs have left to give!
If anyone is considering adopting a senior dog, they should meet Connie! Connie reminds us every single day to find the joy in the little things and to cherish each day. Tomorrow is never promised. Despite her difficult past and her terminal diagnosis, Connie is the happiest, most joyful dog I have ever met. We spend every day giving her all the love and affection and spoiling her as much as possible. We take her on weekend trips to do "bucket list" things so she can experience as many new things as she can. We don't know how much time Connie has left with us, so we truly appreciate each day that we get with her, and it turn that has reminded us to truly appreciate each day that we ourselves have on this earth, especially with the current pandemic. Connie has brought so much joy to our lives and the lives of everyone she has met. I will be forever grateful to Muttville Senior Dog Rescue for bringing this sweet senior lady into my life. She has also inspired me to continue fostering with Muttville and to get even more involved with this amazing organization. In addition to fostering, I also volunteer as a foster mentor. I will continue to do all I can to help this amazing organization.
Lisa
Are you the proud parent of Muttville dog? Send us your story! Include three of your favorite photos and send it to success_stories@muttville.org with the subject line 'Success Story'.