We applied to foster at Muttville in Sept, 2020, and were notified that we could foster Marigold. The next morning at 8:00am we decided to adopt! We fell in love immediately.
We renamed her Sugar because she is such a sweet soul and has been a joy and a miracle in our lives in every way. She lives to love and be loved. The most amazing and miraculous thing is that my partner (a cat person) had never owned – or wanted to own – a dog, and we definitely were not considering adoption, only fostering. After Sugar had been here less than 24 hrs., Mary Lu brought up adoption. I would NEVER have believed, 7 months ago, that we would own a dog. One of the most wonderful things about the whole process is that she and Mary Lu are inseparable. Sugar loves me, but she WORSHIPS Mary Lu and vice versa!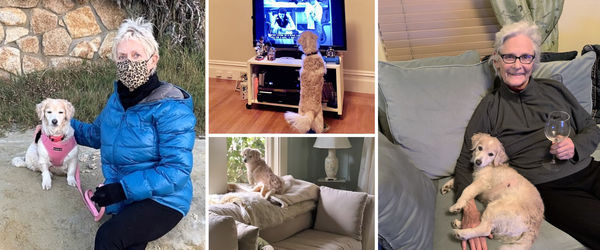 Sugar doesn't bark, doesn't beg, doesn't destroy. She loves all people and has become socialized with dogs during our neighborhood walks. While she was found as a stray, we believe that she had been owned and loved because she was never fearful or shy with humans. She learned everything quickly, regarding daily routines. She LOVES dogs on TV – especially Asta, in The Thin Man series, and tries to find a spot on the TV where she can get to them. She spends much of her day patrolling the backyard for squirrels or watching out the window for neighborhood cats.
Her digestion was great from the very beginning and, since she had a hysterectomy (her uterus was in very bad shape!!) and her bad teeth removed, she has changed into a lively, active, very energetic dog. She is perfect, and we are crazy about her, and about having her in our lives. Here are some recent photos from our vacation and at home.
I am a great fan of Dobermans – have had 2 in past years. Sugar is hardly the short-haired, long-legged dog I thought I preferred. But it is obvious that the universe knew how to choose for us!
Nancy and Mary Lu
Are you the proud parent of Muttville dog? Send us your story! Include three of your favorite photos and send it to success_stories@muttville.org with the subject line 'Success Story'.