I've always loved older dogs. Just like people, they get wiser as they gain more years in the world. I wanted a dog that might not have as good of a chance at getting adopted, and I know a lot of old dogs are overlooked for no fault of their own. So, we adopted Rocky in June! He's the first dog my husband and I adopted together, and the first either of us has had as adults.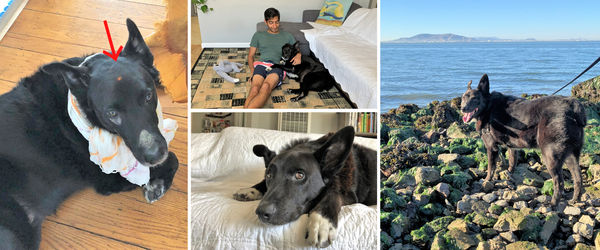 Getting a puppy or a young dog seemed like an irresponsible decision, as it is a much longer commitment. Of course, now that we have Rocky, we want him to live forever. Fortunately, he is quite healthy, and I do believe he will be with us for many years. He's doing great and he's such a sweet presence in our lives. His border collie instincts are strong, he herds us around the house and is only truly content when we're all together. He'll even realize when one of us wants the other to come to dinner and he'll go and fetch the other person! He's so smart!
He's quite a vocal dog and will sing or grunt to get our attention to tell us he needs something or just to express himself. It all seems quite unselfconscious (we don't think he quite realizes how adorable he is). He likes to be with us all the time, and if we are doing sit ups, yoga, or any other exercises on the floor, he will plonk himself right on top of us for cuddles. Exercising became a lot more rewarding! Lately Rocky started woofing in his sleep with "phantom" running and snoring now and then, it's cute to watch.
He seems very happy and we don't know how we lived without him. In November, Diwali and Kukur Tihar fell on the same day. Kukur Tihar is a holiday in Nepal where dogs are honored, so although neither of us grew up with this holiday, we decided to honor Rocky by giving him a tika – a red mark – on his forehead. We're not sure how much he appreciated this honoring.
When I learned about Muttville many years ago and saw that Muttville specialized in senior dogs, I thought that was an awesome idea. I also heard from other people what a great organization it was, and we wanted to adopt from a responsible organization.
I'm so so glad we did!
Andrea and Siddharth
Are you the proud parent of Muttville dog? Send us your story! Include three of your favorite photos and send it to success_stories@muttville.org with the subject line 'Success Story'.