Hi Muttville,
It was suggested that I send you a few paragraphs and photos for you success story profiles. Here is ours: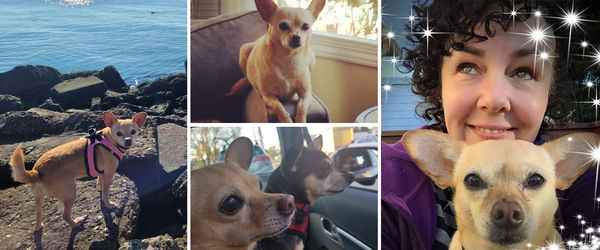 We love our little Daisy (was Darcy). Can't believe it's been over 8 months since we adopted her! She has such a fun, mellow, cuddly personality. She loves nothing better to lounge on our laps or keep guard at the window. She has allowed our other rescue, Tavi, to relax more as she she keeps an eye on things. Except of course when she's sleeping, which is a lot – so we nicknamed her "Lazy Daisy". We don't think she got out very much in her previous home, but she seems to enjoy hikes and is a good sport with the longer distances.
It has been fun to discover more about her laid back personality; we love her big, soulful eyes, her prance like walk, and her clumsy ways of jumping. She has been a wonderful addition to our family and we couldn't be happier.
Are you the proud parent of Muttville dog? Send us your story! Include three of your favorite photos and send it to success_stories@muttville.org with the subject line 'Success Story'.