We adopted Burt Reynolds (AKA Moe) five months ago and we couldn't be happier. He brings so much joy to our life and an excessive amount of cuteness. Moe is an adorable gentleman who is mostly interested in sleeping, belly rubs, and eating (his most favorite thing is whipped cream).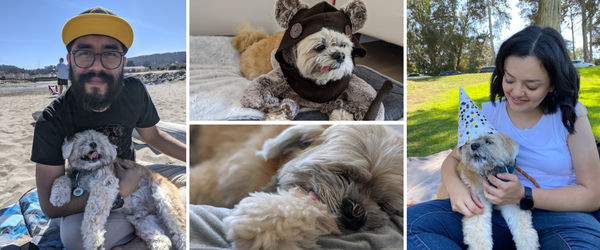 A year ago, Oscar and I got married. We were ready to open our hearts to a pup and, when we saw Moe's picture, it was love at first sight. A couple of weeks after we adopted him, the vet recommended removing all his teeth (they were in really bad shape), so now he has his little tongue sticking out quite often. Moe has the ability to comfort us when we feel down, but mostly, he makes us laugh with his amazing personality. He is super relaxed and friendly. He always wants to say hi to every dog and every person he meets. We discovered he knows some tricks and understands the commands in Spanish and English, he is such a smart boy.
When he first came in, he was a bit shy, but it didn't take a long time for him to feel at home. We are so thankful to Muttville, as well as Carol and Adria who were Moe's foster moms, they taught him all his good manners and helped us through the adoption process to make it as smooth as possible for him.
We love Moe with all our heart, and we are grateful to have him around.
Are you the proud parent of Muttville dog? Send us your story! Include three of your favorite photos and send it to success_stories@muttville.org with the subject line 'Success Story'.