Tips & Tools for You and Your Dog
- What to expect after you adopt a mutt
- Introducing your new Muttville dog to your resident dog
- Introducing your new Muttville dog to your resident cat
- Housebreaking tips for your new Muttville mutt
- Recommended shopping list for your newly adopted mutt
Senior Dog Care Resources
Financial help for veterinary care
Below is a list of organizations that may provide financial assistance to pet owners in need. Keep in mind that each organization is independent and has its own set of rules and guidelines. You will have to investigate each one separately to determine if you qualify for assistance. This list is to help you find financial assistance for your senior dog's care.
Muttville is not associated with any of these organizations or responsible for any decisions that they make.
I Heart Dogs: Twelve programs to help pay for medical expenses.
Care Credit: A line of credit that can be used to cover veterinary costs.
All Pets Wellness Foundation provides funds to care for sick and injured pets to owners who cannot afford it.
RedRover (formerly United Animal Nations) offers grants to rescue groups, good samaritans, small non-profit organizations and others to help them obtain lifesaving veterinary care for animals thorough the RedRover Relief Grants program. RedRover also maintains a list of other financial assistance programs.
Rose's Fund for Animals will financially assist, to the best of their ability, pet owners and Good Samaritans who have an animal with a good prognosis for a healthy life, but are at a financial loss. Rose's Fund for Animals also maintains a list of emergency/medical assistance for pet owners. And a state-specific page.
The Senior Dogs Project maintains a list of general assistance resources, as well breed-specific and disease-specific funds.
The Acme Foundation founders believe that a pet should not have to be euthanized because of lack of funds to treat a pet that would otherwise regain health, if provided with the necessary veterinary care. All proceeds go to qualifying recipients who apply for assistance at Clearlake Veterinary Clinic, serving Lake County, CA.
Low-cost pharmacies
Recommended veterinarians
These veterinarians regularly see Muttville dogs.
Grieving the death of a pet
Losing a beloved companion can be a devastating experience, often more so than people anticipate.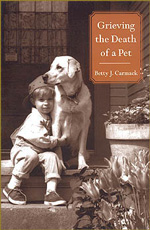 Dr. Betty J. Carmack has worked as a nurse in pet loss counseling since 1982. Her book, Grieving the Death of a Pet, provides help and guidance for people coping with the loss of a dear pet. Information about the book and how to buy it are available on her website, where she also provides some online guidance for getting through the difficult times.
We also recommend the SF SPCA Pet Loss Support Group.
At Muttville, we consider our dogs family. Please let us know if you have a Muttville dog who passes away, so we can add them to our "In Loving Memory" page.