I adopted Ranger Rick about three months after my beloved 15 year-old beagle mix, Rudy, passed away. When I saw Ranger Rick's profile, I knew instantly that we were meant to be a family. Little Ranger Rick was shaking when I first met him, unsure of what was to come as I took him home with me.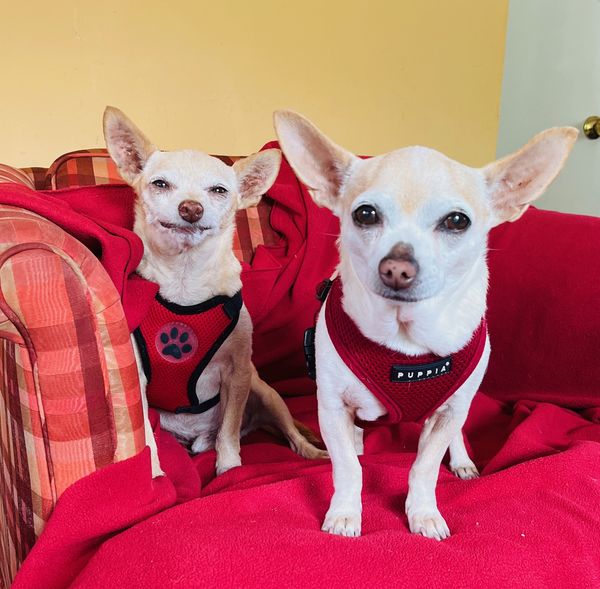 I'll never forget the first morning I woke up with him. I found him sitting upright next to me, gently studying me as I opened my eyes. He was as quiet as a mouse and his face was so sweet and tender. He has been such a comfort for me since losing my Rudy. I believe that every dog that comes into our lives is meant to teach us something. Ricky has taught me the importance of perseverance. "Never give up!" "Keep going!" That is the energy little Ricky exudes everyday. Oh, and also, "More please!" (regarding food :)
Just a few months later, Ricky and I met Edgar at Duboce Park as his foster mom, Lynette, paraded him around. Honestly, I wasn't planning on adopting a second dog but I couldn't resist his face. Edgar is the sweetest little boy and the most affectionate—he is my shadow at all times. Oh, what a treat he is! He has reminded me of what a wonderful gift it is to have an open and expressive heart.
Ricky and Edgar (aka Little Ed) aren't best friends, but they make do and they've learned to live well together, even helping each other clean one another's ears at times :) I couldn't be happier to have adopted them. Thank you for my little blond boys, Muttville!
Katie Champieux
Are you the proud parent of a Muttville dog? Send us your story! Include three of your favorite photos and send it to success_stories@muttville.org with the subject line 'Success Story'.