In late October of 2018, my husband passed at the young age of 43 due to an aggressive cancer. We had battled for quite sometime and often had visitors coming to check on us, so when he passed, over time the house became unbearably quiet. So quiet that it was hard to come home, because you come home to deafening silence. I didn't know quite what to do….but I also knew that I needed something to change. I needed purpose.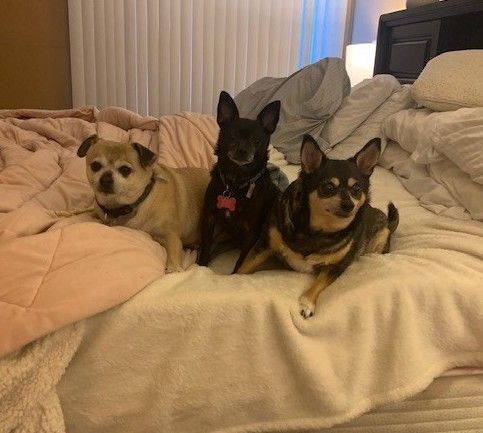 My son had told me about Muttville. I had one dog in my life…and really, he was my daughters dog and I always considered myself a cat person. I thought about it and in late March of 2019 I decided I was ready for a life change. I gave my son two directives. I wanted two dogs, one that had been there the longest and one that may not get adopted because of shyness or temperament. He came home that day with Kleo (renamed Gladys, tan chug) and Starlite (renamed Phyllis, black chihuahua). Old lady names for my two little old ladies! It was a big change for me, since I never really had a dog. Bringing them into my life meant I had to get out of bed, I had to walk them, and care for them. They gave me purpose and a reason to love coming home again. Two weeks later, and as crazy as it sounds, I felt like we weren't complete. That's when we got Roxanna (renamed Trudy miniature pincher/chihuahua…keeping with my old lady name trend).
Each of them brought me something special. Gladys is so sweet, lives for car rides and belly rubs, has the best photogenic face and the funniest quirks. At night she has to sleep touching me in some way and when I wake up her little face is always staring at mine. Phyllis is shy and timid, but it's clear that I am her person, and she will bulldoze anyone out of the way to get her cuddle time with me. She's the smallest but she runs this house! Trudy was my cuddle bug. She would follow me around everywhere and snuggle up with me. She would give kisses all day if she could. We went on new adventures…walks around the neighborhood, car rides to nowhere, the beach, and their favorite…the pet store! I learned to smile again, to laugh, to not let myself get bogged down in grief because I had these little old ladies counting on me
Trudy started to get sick in the spring of 2019. I took her to 6 different vets and specialists, and no one could diagnose her. She went blind and her body started to break down. Through it all she remained the sweetest girl, and because she had a hard time walking, I would take her out in her stroller to feel the wind on her face. The time came and I held her as we said goodbye. As hard as that was, I knew that I had to keep going. I had to rescue more like her…even though our time may be short, because as much as I'm helping them, they are helping me more.
A few months later I saw Leo (miniature pincher) on the Muttville site, and I knew he was our boy. His prior life was full of neglect so he's my shadow. He loves late night cuddles, rubbing his face on yours, and being in the passenger seat on long drives. He's my little old man who walks a little wonky and has an old man scowl on his face. He's the best addition!
Two years out from the loss of my husband I can say that time has helped dull the sharp pains that were once present on a daily basis. There is no doubt that I would not be where I am today without the love from my Muttville alumni. They have healed me in so many ways and I am forever grateful.
Love,
Mary, Anthony, Gladys, Phyllis, Trudy, and Leo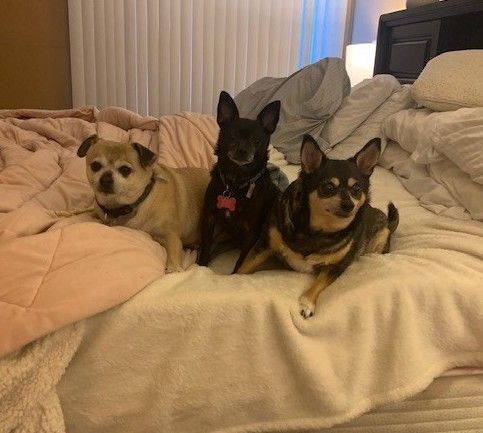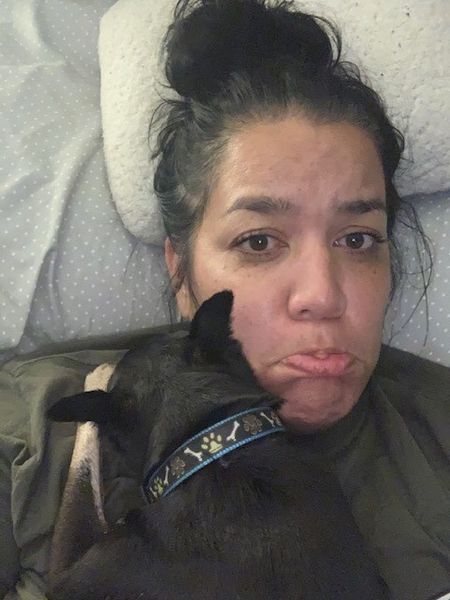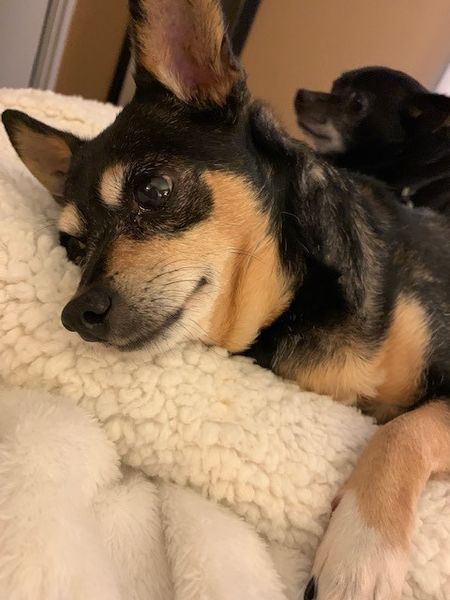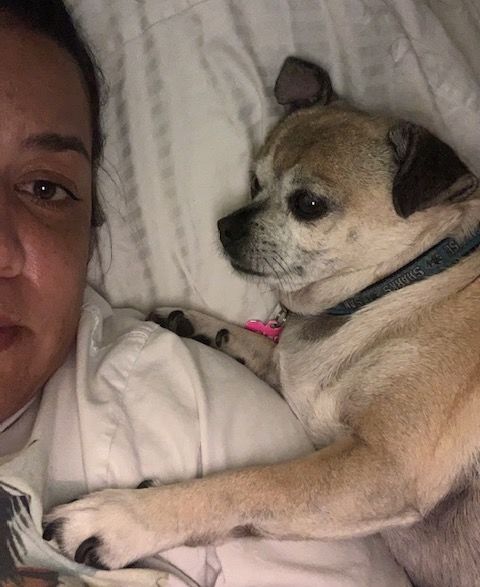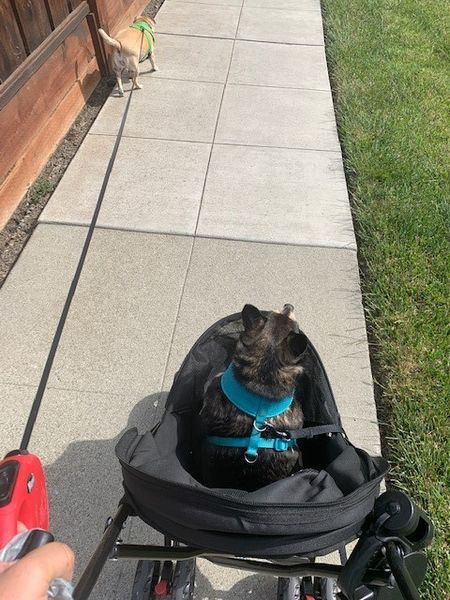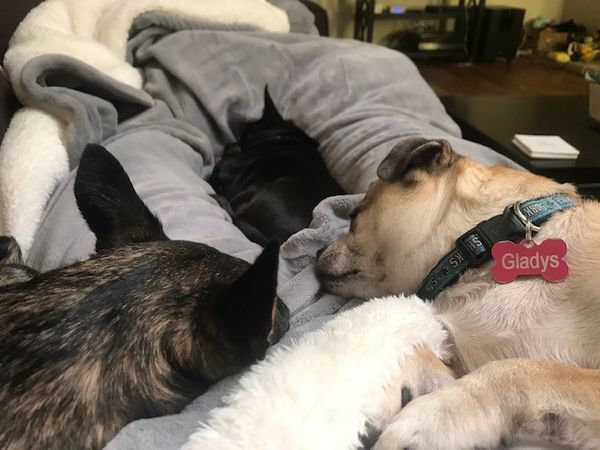 Are you the proud parent of a Muttville dog? Send us your story! Include three of your favorite photos and send it to success_stories@muttville.org with the subject line 'Success Story'.