Dear Muttville:
It's been nearly three years since I adopted our little mini-pin Red. The Northern California Wildfires were raging and we visited Muttville looking to foster a dog — we wanted to help in the efforts to clear the shelters. It was a busy Sunday with lots of activity and here was this blind sweetheart who didn't seem to be fazed by anything! It was instant love but I knew better than to adopt on the spot when I was looking to foster. I tried to get a friend to adopt her with no success, and I couldn't forget about her.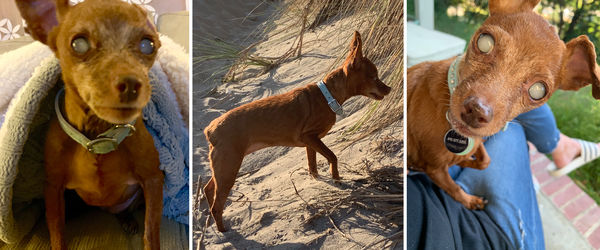 I brought her home the day after Thanksgiving not knowing how she'd adapt or map out her new life. Well let me tell you she is the QUEEN of the castle. Red loves Stinson Beach, lying in the sun, treats, sleeping, and barking at the birds. Sadly, the deer that roam through our yard have learned she's not a threat so that is a little frustrating for her. She has the sweetest disposition with a dose of stubbornness and truly couldn't be an easier dog. She also gets lots of admiration when she's out walking on her leash.
Thank you Muttville for the incredible work you do, and for saving my perfect companion from the streets. She is truly a gift.
With gratitude,
Amy Landers and family
#blinddogsrock
Are you the proud parent of Muttville dog? Send us your story! Include three of your favorite photos and send it to success_stories@muttville.org with the subject line 'Success Story'.