Terry and Gracie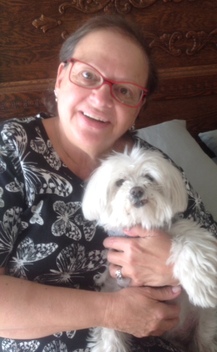 Terry and her husband always had dogs when their four daughters were growing up. But since the kids left home and the family pets passed away, it had been nearly ten years since a dog had graced their home. "There was a void," Terry says. "I really missed having a dog."
An added complication was Terry's breast cancer diagnosis. About a year ago, she learned the cancer had metastasized and assumed she wouldn't be able to adopt a dog. But good news came six months ago. "My PET scan was normal," Terry reveals. "So I decided: I'm getting a pet!"
Terry hoped to adopt a senior dog so they could have a "nice, old age together." She searched the Muttville website and came across Gracie, a thirteen-year-old Maltese mix. Gracie had been found wandering the streets of Southern California and faced a number of challenges. She was blind and deaf; her fur was severely matted; and she had a burr deeply embedded in her rear paw.
Thanks to generous donations from Leftovers Home Consignment shop, Muttville was able to provide Gracie the medical attention she needed. She had surgeries to remove the burr from her paw and the cataracts robbing her vision. Her matted fur was shaved. As a retired registered nurse, Terry decided she was up for the responsibility of caring for a senior dog.
Gracie is a very social dog who loves being around people. Luckily, Terry has an extremely active social life. Gracie is registered as an emotional support animal, so she can now accompany Terry on the bus, in her shopping cart at Whole Foods, to a class she's taking at USF, and even to the symphony! While Gracie couldn't hear the music, Terry is sure she could feel the vibrations, as she sat peacefully in her seat for the full two-and-a-half hours.
In addition to being a sweet, easy dog who never barks, Gracie can also be a stubborn old lady. Terry laughs at the way she sometimes balks when it's time to go for a walk, especially when it's raining. Fortunately, Gracie has learned that the sooner she gets her business done outside, the sooner she can get into bed, which Terry describes as her "nirvana." While Gracie definitely likes to sleep a lot, she sometimes still bounds around the apartment like an Energizer bunny, bouncing out of the elevator and sweeping down the hall.
"She's the sweetest, nicest dog we ever had," Terry says of Gracie. "I feel so complete. The past four months have been wonderful. Gracie makes me feel wonderful."