Zina 7500
Jack Russell Terrier
Female
Medium (20-50 lbs)
Status: In hospice care
Jack Russell Terrier
Female
Medium (20-50 lbs)
Status: In hospice care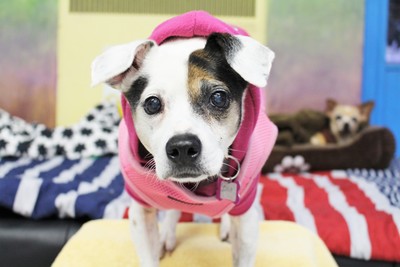 Zina is a beautiful dog with a personality to match!
Zina is a confident, friendly dog who lights up every room she enters. She's been through a lot of changes recently – her previous guardian had to surrender her after suffering from dementia and being moved to assisted living. – but she's taking it all in stride, and is ready to find her next forever home. She would appreciate a home where she can enjoy the outdoors by taking walks around the neighborhood, or perhaps a snooze in a backyard or on the sofa. When she's not experiencing all the outdoors has to offer, she'd love to snuggle up next to you while watching your favorite shows. Sound like the perfect addition to your home? Fill out an application today!
Zina is estimated to be 10 years young and weighs 15 pounds.
Notes from her foster mom
She is such a loveable girl, with the heart of a younger pup. I was surprised by how playful and goofy she is :) She likes playing with a few toys (tennis balls, random stuffed toy) and loves following us around the house when we go about our day, jumping on the couch to patter around and find a spot next to us while we read/work.
She's very friendly with all people (never shows aggression)!
Zina recently took a trip to the beach last weekend which she loved! She was a little freaked out by the car ride but got comfortable after 30 min.
She does need to pee around 3x every 24 hours due to her kidney problems, but she's generally house trained (a few accidents in the past 2 weeks)
STAFF PICK
Zina is the warrior princess of my heart (the spelling is different but the sentiment is the same)! Her delighted gallop to greet her friends, her joy at playing with toys, her deep appreciation of back scratches, her zeal for snacks: Zina brings the major joy. She loves to be on the move, shadowing you or exploring on her own, but is also a big fan of snuggling under blankets (and will occasionally bring her blanket on her back). She has an indomitable spirit: you'd never guess that this spunky, playful gal is hospice (whatever you do don't tell her).
Love, Kelly W.
After being diagnosed with a terminal illness, Zina is living life to the fullest in our Hospice Program, under which one of our special hospice families has provided her with a loving home and the very best possible end-of-life care. Please wish Zina well!

Would you like to support the dogs in Muttville's Hospice Program through a donation? Click here to donate items, services or funds.