Xander 1403
bichon/poodle
Male
Small (6-20 lbs)
Status: Adopted
bichon/poodle
Male
Small (6-20 lbs)
Status: Adopted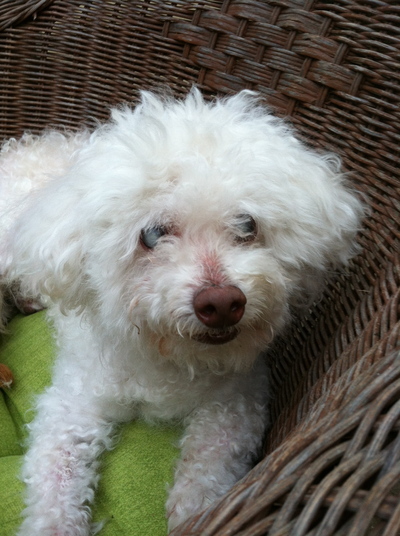 Stevie is a fixed male, and weighs about 15 lbs.
He enjoys company, he is a really happy little guy,always wagging his tail. Despite being blind he is inquisitive and loves to explore his surroundings by smell and feel and hearing.He seems to be able to navigate around objects and walls most of the time,we assume he might be able to see some shadows.
He quickly adapted to his current foster home environment with two other dogs,they are all getting along very well, cats are ok too.He goes up stairs, and is learning how to go down stairs ,he knows where the water and food bowls are and will go there on his own. Stevie does well with a routine and schedule. He navigates the environment better when allowed to explore, versus being carried and set down somewhere.
He walks well on a leash, and will follow you along a path or trail if he is off leash. Stevie loves riding in a car, and is house broken if he is provided with a consistent schedule to go outdoors.
He has some separation anxiety, and is improving in this area (routine and consistency are the key). He likes to be within hearing range, and is getting more comfortable being alone.
Stevie is a sweet, fun snuggle bug!
We're delighted to report that Xander is currently in a loving and caring home. Thanks to all the wonderful friends of Muttville who helped to make this happen.