Valley Girl 7570
Lhasa Apso/ Terrier Mix
Female
Medium (20-50 lbs)
Status: In hospice care
Lhasa Apso/ Terrier Mix
Female
Medium (20-50 lbs)
Status: In hospice care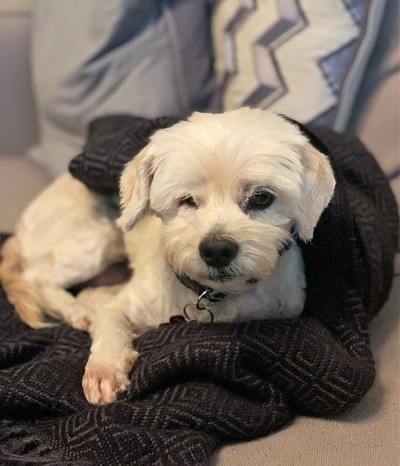 OMG like have you SEEN Valley Girl? She's like way scruffy cute, omg. Seriously, like you should totally come adopt her. Valley Girl is so totally girly-girl, like DUH, and like OMG she's so sweet. Valley Girl totally loves hanging out with her sassy girlfriends, going shopping, and brunch. You should totally get over to Muttville to like meet her and whatever!
Here's what Valley Girl's fosters have to say:
Valley Girl is a spunky little love bug. She's just as happy cuddled up next to you for a snooze or trotting alongside you as you walk around the house. Valley Girl loves going on walks – she'll race you to the door when she's ready to go out! She clips along at a reasonable pace (not too fast, not too slow) and enjoys saying hi to all of the neighbors that she passes along the way. Valley Girl is a slow and somewhat picky eater but seems to love peanut butter and also enjoy roast chicken and rice. She appears to be house trained (no accidents yet, even overnight) and does a great job of sleeping through the night. She is incredibly friendly to her people and their guests and barely makes a peep throughout the day.
Valley Girl is an absolutely sweetheart who's also playful and curious – she's no wallflower! She's the best of all worlds and is a total catch. She won't last long at Muttville!
Valley Girl is so playful! She loves cuddling up, keeping you company around the house, going on walks & jumping around playfully. She likes being walked at least 3-4 times a day, maybe 15 minutes each. She also enjoys a longer walk! She sleeps most of the day, but will get playful bursts of energy every few hours. Valley Girl seems very curious about other dogs when she spots them. She spotted a cat on the street & had no big reaction. Valley Girl prefers if there's someone to keep her company as much as possible. She didn't love our car rides-was whining & moving around constantly until she sat on my lap. Her house-training is great! No accidents & she'll whine by the door if she needs to go out. She's been happily eating rice & chicken, but also seems to enjoy the wet canned chicken dog food. Loves a good blanket on a couch or bed that she curls up on. When she plays by jumping around at your feet, at her most hyper she'll (very gently) bite at your legs or hands.
Valley Girl is sweet, cuddly & playful. She loves to be with her person & wants to go on a walk every hour! She has good energy & is always up to go outside. However, she gets tired after 20 minutes or so on a walk. When we pass single dogs she's ok but she got a bit overwhelmed by a larger group of dogs with a dog walker. She doesn't love riding in the car & will need time to warm up to that. Valley Girl is house-trained, no accidents in the house:). She loves to nap on the beds & on anything cozy & soft. She loves to play "chase" up & down the hallway & she is super snuggly too. I woke up today with her snuggled at the foot of the bed.
Valley Girl is estimated to be 10 years old and weighs 15 pounds.
After being diagnosed with a terminal illness, Valley Girl is living life to the fullest in our Hospice Program, under which one of our special hospice families has provided her with a loving home and the very best possible end-of-life care. Please wish Valley Girl well!

Would you like to support the dogs in Muttville's Hospice Program through a donation? Click here to donate items, services or funds.