Valentino 7598
Min Pin/Italian Greyhound Mix
Male
Small (6-20 lbs)
Status: Adopted
Min Pin/Italian Greyhound Mix
Male
Small (6-20 lbs)
Status: Adopted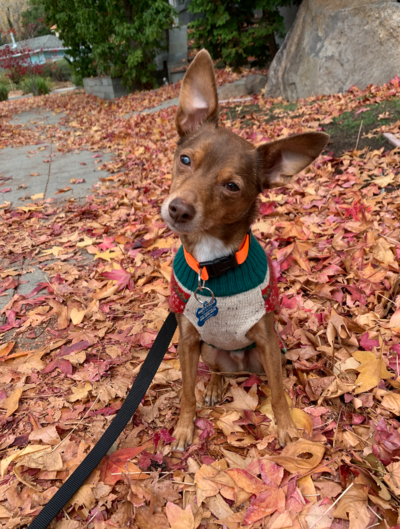 Oh, Valentino, take me home — oops, I mean, let me take YOU home.
This spry, handsome gentleman will be the one to walk you to your car when you're ready to leave the goofballs at the party. As a matter of fact, he'd love to hang at home all the time and help you cuddle up! He'll take long walks with you on those beautiful foggy days, bring you your slippers*, and binge-watch whatever YOU want to watch. If you've always dreamed of having a slender little sidekick with David Bowie eyes and a heart of pure gold, he's here and he's waiting to meet you!
*not 100% guaranteed, but you can always ask nicely
He is guesstimated to by 7yrs young and weighs 11lbs.
Here's what Valentino's foster has to say about him:
You have to come meet this sweet, sweet boy…his photos do not do him justice! He is the ultimate love bug – he just wants to be close to you, snuggled up in your lap or under your sheets, or his very favorite… completely buried in a big pile of blankets. If you take him shopping he wants you to hold him like a baby so he can nuzzle his perfect little head into your neck. He is very interested in knowing what's happening around him and he can be very busy, but if he's made a cave for himself he doesn't have any other cares in the world.
He loves going on walks, unless you've woken him up out of a sleep to go potty – then he is (rightfully) reluctant. He is great on the leash but sometimes isn't too happy about other doggies, though if he's sharing space with them at home he'll eventually warm up and share very politely.
He is a little bit shy with new people and can be unsure in crowds, probably due to his limited vision in his right eye. He took a little bit of them to adjust to his new home and routine, but he settled right in after just a couple of days. He is fully housebroken, knows "sit," and I am confident he will be very easy to train – he is very food motivated once he's comfortable and he is very smart! We've been working on building good behaviors and he's already showing progress.
I think Valentino will be the perfect partner for a mellow household without kids. If you like to snuggle, can execute a great swaddle, and want someone to love you 100% unconditionally, Valentino is the boy for you. I would absolutely be a foster fail if I had time in the long term – he is really SUCH a sweetheart and the best boy.
We're delighted to report that Valentino is currently in a loving and caring home!