Tyson
Pug
Male
Small (6-20 lbs)
Status: In Muttville's hospice program
Pug
Male
Small (6-20 lbs)
Status: In Muttville's hospice program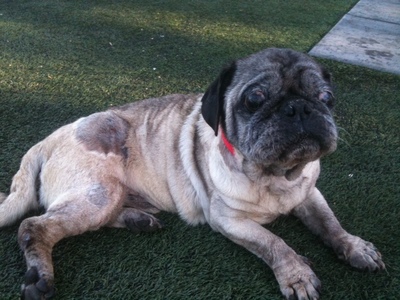 There is only one Tyson….this handsome 10 year old boy is strong, sweet and very charming.
He survived prolonged neglect living in a very small space with his mother and brother. His head is as big as it appears and he loves it to be massaged. He is a long pug and is very happy when he can stretch along your legs on the couch or in bed. He has adorable paws, hold-able paws.
He is diabetic and requires 2 shots per day….it's easy and he doesn't mind. He needs to get his muscle tone back so a few short walks to the park each day would be great. He's slow but he loves to sniff and be patted in the grass.
He had untreated dry eye – the worst case the vets had ever seen. His eyes requires drops each day and have gotten better…he can see and get around. Of course, he's a good sport about the eye drops too. A home without steps would be best for him.
He's good with other dogs…and cuddles with the other pugs in his foster home.
He is grateful to be part of the Muttville nation.
After being diagnosed with a terminal illness, Tyson is living life to the fullest in our Hospice Program, under which one of our special hospice families has provided him with a loving home and the very best possible end-of-life care. Please wish Tyson well!

Would you like to support the dogs in Muttville's Hospice Program through a donation? Click here to donate items, services or funds.