Toshi 1487
Miniature Schnauzer/Yorkie Terrier mix
Male
Small (6-20 lbs)
Status: Adopted
Miniature Schnauzer/Yorkie Terrier mix
Male
Small (6-20 lbs)
Status: Adopted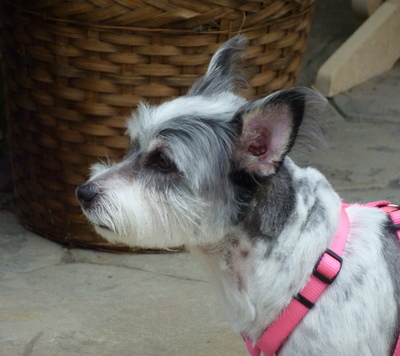 Toshi is a 6 year old fellow that almost didn't make it out of the shelter. His elderly owner surrendered him to the shelter as she or he felt unable to care for Toshi anymore. Perhaps it was pressure from a family member on the elderly person to give up this very special and adorable small dog.
Toshi really suffered at the Martinez shelter. He was sad and curled up in his bed and when someone approached him, he would hide in the kennel. He was in the kennel with 2 other small dogs including a very barking Papilion dog and he didn't even seem to react to this other barking dog. He came over to take a biscuit very gently from a volunteer's hand and then went back to bed. He was obviously lonely and grieving for his owner and familiar surroundings. He was definetly on his way to be being euthanized a
He mellowed out when he first got in the car to be transporter, enjoyed his first walk of freedom and then hopped into his crate. The person transporting him said that he really needed a bath so the foster took him to be bathed and groomed. He emerged as a beautiful small dog. He is a sweet dog and in a quiet home, he has done really well. The foster mom agreed to foster him.
Toshi is housetrained, neutered, microchipped and gets along well with other dogs. He appears to be submissive to other dogs. He is a quiet dog. He seems to like kids but maybe an adult home or a home with older kids would be best as many small dogs don't like the chaos that young kids can create. His current foster has two very small dogs and Toshi gets along very well with them.
This little cutie is only 14 pounds and about 6 years old. Toshi lived with a senior who was unable to continue caring for him. Outside of the shelter, he is now blossoming under the care of a loving foster mom. He was pretty bedraggled looking when he arrived at the foster home, but a trip to the groomer revealed a very handsome boy. I think he is a very unique looking dog. I would love to have a DNA test done to determine what breeds of dogs that he is. I would guess terrier, yorkie , schnauzer.
We're delighted to report that Toshi is currently in a loving and caring home. Thanks to all the wonderful friends of Muttville who helped to make this happen.