Tony Stark 7443
Poodle
Male
Small (6-20 lbs)
Status: Adopted
Poodle
Male
Small (6-20 lbs)
Status: Adopted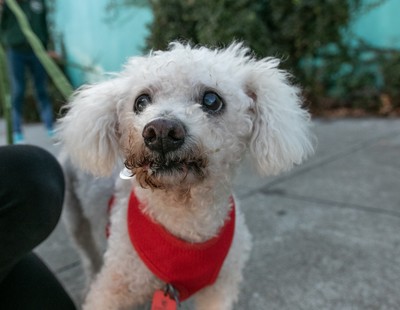 Tony Stark wants to be your superhero!
A wealthy, glamorous ladies' man, who is also one of the most inventive Marvel characters…well we may have the retired Tony Stark. This adorable little fluff bucket wants to sleep the day away in a nice sunny spot and go for a little walk or romp around the yard after you come home from work. Tony seems to be quiet, great with other dogs, would probably do just fine with a cat at home. He came to Muttville after his guardian could no longer care for him, so Tony has spent most of his days in a loving home and would just like a new beginning in yours.
Tony Stark is guesstimated to 14yrs old and 13lbs.
Here is what Tony Stark's foster has to say:
You must meet Tony, this superhero will rescue your heart! Tony is an absolute sweetheart and a goofball. He loves taking naps on a soft blanket and looking out the window whenever we go anywhere in the car. He likes being held in a sling or bjorn when we take him out shopping, and gets curious about other small dogs on our walks. He can get a little timid or scared of big doggies.
He's a little bit shy around new people, and took some time to warm up to us, probably because of his limited sight, but he settled in with us in just a couple of days. The first couple of days he had a couple of pee pee accidents but we think that once he felt secure he would get to go outside multiple times a day, that stopped! Tony is extremely food motivated and is looking forward to meeting his furever pawrents! We think Tony will do will in a mellow house without kids. If you like snuggles and someone to happily trot from room to room with you, Tony could be your hero.
We're delighted to report that Tony Stark is currently in a loving and caring home!