Dachshund Mix
Female
Small (6-20 lbs)
Status: Adopted
Dachshund Mix
Female
Small (6-20 lbs)
Status: Adopted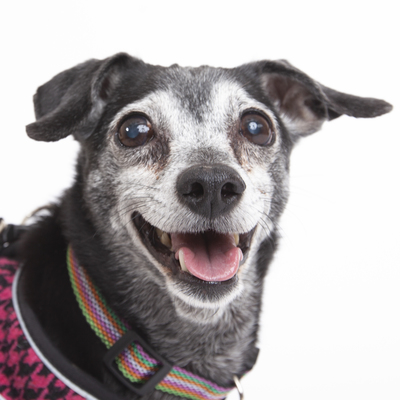 Tantalizing Tinker !!!
No wall flower, Tinker is full of life and a great sense of adventure. Her sweet smile says it all – she's just full of happiness and love. Tinker is a consummate extrovert who loves meeting new people and fellow canines, playing of any kind, walks and cuddling. And, as you can see, she certainly doesn't mind striking a pose and smiling for the camera. Let her sprinkle some of her special doggie fairy dust into your life.
Tinker is estimated to be 13 years young and weighs about 14 pounds.
Here's what her foster has to say
Tinker is a sweet, friendly, gentle dog. She has a high activity level and walks 6 miles off-leash at Fort Funston every weekday morning. She goes up and down stairs easily. Jumps into and out of cars easily. Loves to ride shotgun. At home, she couchsurfs with the best of them, and loves to curl up next to me. At night she sleeps with me either on top of, or under, the covers. On leash walks around the neighborhood, she will occasionally bark at some people we encounter along the way. Her bark sounds like a hoarse squeak toy, so while it may be embarrassing, it is not intimidating. She is never aggressive. On top of all that amazingness, she's also housetrained!!
Tinker walks the beach six miles daily with her foster dad and she loves being with her person!
STAFF PICK
Tinker is a most well-rounded dog who has something to offer to any type of dog fan. Are you the type that is looking to take your dog out for an adventure for hours on end? Tinker would love to join! Does hanging out in the dog park to meet other pups entice you? Great! Tinker loves meeting new friends! Do you want to cuddle your Sunday away and watch movies all day? Tinker is down with that too!
Tinker is honestly one of the best dogs that I've met here at Muttville. No matter how you choose to spend your time with her, she is guaranteed to look at you with that special glare and love you unconditionally. What are you waiting for? Take Tinker out on a stroll today!
We're delighted to report that Tinker is currently in a loving and caring home!