Timmy
wheaten terrier mix
Male
Medium (20-50 lbs)
Status: Adopted
wheaten terrier mix
Male
Medium (20-50 lbs)
Status: Adopted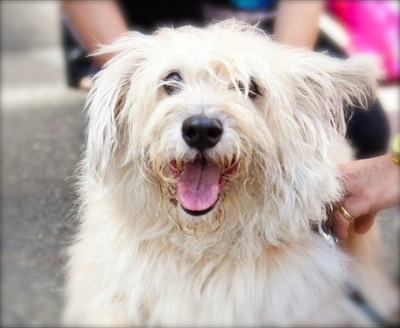 Timmy met his perfect family, thanks to Tim Lincecum, Pop Chips and Coastal living Mag. timmy is now surrounded by lots of love and he says, "Life is beyond good" thanks to you all for making this happen for Timmy!!
!Meet Timmy! We named him after his hero, Tim Lincecum. Our Timmy came from a life of obscurity and now will go down in the Muttville Hall of Fame!
He will be the first Muttville Dog to walk out on the Giants ball field thanks to Tim Lincecum and Popchips.
We were told Timmy may be as old as 11 years, but he seems younger. He is a joyful 40 pound boy with a sweet demeanor.
He is a "go with the flow" dude, he loves car rides and walks in the neighborhood. He likes other dogs, too.
He is great with children, too
This wonderful dog is just looking for a family to love!
We're delighted to report that Timmy is currently in a loving and caring home. Thanks to all the wonderful friends of Muttville who helped to make this happen.