Teddy Ruxpin 7581
Chihuahua Mix
Male
Small (6-20 lbs)
Status: Adopted
Chihuahua Mix
Male
Small (6-20 lbs)
Status: Adopted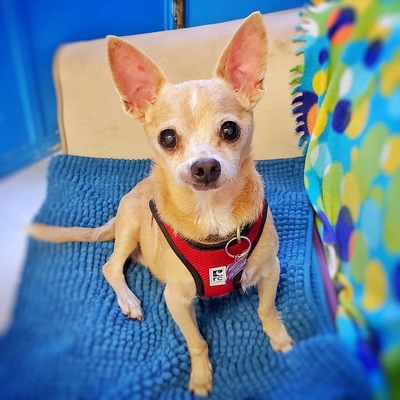 Hi there, it's Teddy Ruxpin!
Meet Teddy Ruxpin, an adorable little Chihuahua with expressive eyes and beautiful tan fur. If you want to talk about a dog who is a living doll … it's this little one! Teddy Ruxpin's the perfect size for carrying around everywhere when you go out, and for warming your lap when you are indoors. He's a living dream for those who like to dream big when it comes to small dogs! Teddy Ruxpin is the cuddly little dog who will turn heads everywhere the he goes and will make you feel like the princess or prince of doll kingdom. One thing's for sure, you'll always have a friend in this little guy! Come by Muttville and meet Teddy Ruxpin today!
Teddy Ruxpin is estimated to be 10 years young and 11 pounds.
Teddy's Foster has to say:
Let me tell you about super cutie Teddy Ruxpin, such a good boy. He's quiet, gentle, smart, and bonds very quickly-he is definitely a person dog. He gets along with other dogs (I have five) and is a very good walker. Sleeps and eats very well, especially LOVES to sleep with you and cuddle with you, but he can, also, sleep in his own bed.
He is diabetic and needs insulin shots twice a day. The injections are very simple to administer and he is super super easy with this. As a consequence of his diabetes, he can see only shadows, his loss of vision occurred very suddenly. He's been a quick learner and has pretty much figured out the lay of the house and yard. Working on his house training, taking him out every two hours and he is now able to readily go and take care of his business once he is outside in the yard. Inside, he can use pee pads. I work from home, so he's pretty much with me and my five doggies in a quiet environment, on a schedule, with lots of cuddles and a sense of security. He is so easy to love.
Teddy is a dear heart and shows me every day, all day how much he wants a home and heart to love him. He will be the best companion ever for that special person who wants his love.
STAFF PICK
Teddy Ruxpin totally lives up to his namesake – a Best Friend, who will not only entertain you, but make you smile whenever you are together. This little sweetheart has quickly become one of my very favorite Mutts! Teddy is as velvety brown and soft as any Teddy Bear, but twice as cuddly! It's impossible not to smile when his whole body wags along with his lightning fast tail. Small in stature, he's easy to take anywhere you go, and he loves to walk and explore. Even if you never had a Teddy Ruxpin Bear, remember how your Teddy Bear made you feel as a kid? You'll get all that and more if you choose to make Teddy a part of your life… this very special guy is love, laughs and joy all wrapped up in a furry brown coat!
Love, Alice
We're delighted to report that Teddy Ruxpin is currently in a loving and caring home!